Presented by the Chinese American Museum and El Pueblo Historical Monument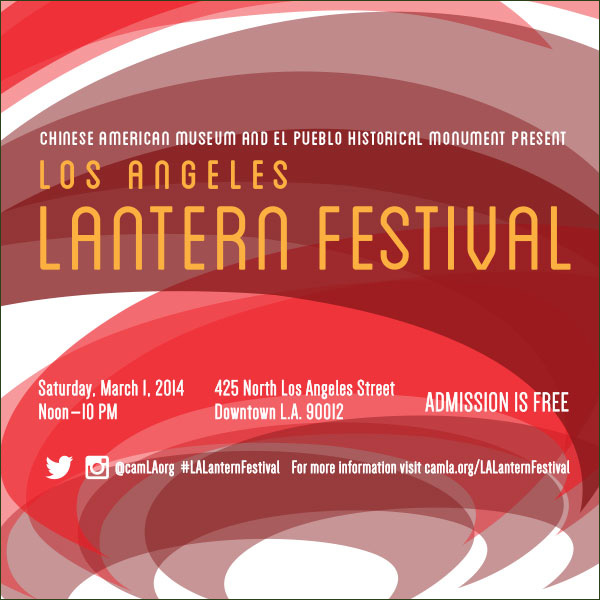 Los Angeles! Join the Chinese American Museum for the
13th Annual Los Angeles Lantern Festival
on Saturday, March 1. There will be food and live entertainment from the YouTube comedy duo the Fung Brothers, music from Connie Lim, comedy from our homegirl Jenny Yang, and beats from DJ Phatrick. The event is free. Here's a breakdown of what's happening that day:
13th Annual Los Angeles Lantern Festival

Join the fun beneath colorful lanterns in the vibrance of Downtown L.A. for the Chinese American Museum's free signature event. The 13th annual Los Angeles Lantern Festival brings traditional Chinese performances as well as contemporary Chinese American entertainment, music, food trucks with Chinese and Taiwanese-inspired snacks and beverages and, for the first time, a beer garden. At dusk, the lighted Silver Dragon will wind its way through El Pueblo de Los Angeles Plaza. Come and see rising Chinese American stars, including Internet sensations THE FUNG BROTHERS, popular singer CONNIE LIM, comedienne JENNY YANG, and dance to the masterful beat of DEEJAY PHATRICK. Children and their families will enjoy a wide variety of hands-on arts & crafts along with shadow puppets, acrobats, dancers, martial artists, and much more.

WHO:
Presented by the Chinese American Museum and El Pueblo de Los Angeles Historical Monument at the birthplace of Los Angeles and Old Chinatown

WHEN:
Saturday, March 1
12 noon to 10 p.m.

WHERE:
Chinese American Museum
425 North Los Angeles
Los Angeles, CA 90012
(Located across from Union Station at El Pueblo Plaza)

WHY:
LALF'14 represents a departure from commercially-based street festivals, with its primary focus on community-building and education. The free festival encourages the public to celebrate Chinese America and embraces CAM's mission by fostering a deeper understanding and appreciation of America's diverse heritage by sharing the history, cultural legacy, and continuing contributions of Chinese Americans.

For more information, including the full lineup, visit the
Chinese American Museum website
.