Student groups call on UCLA leaders for support of Asian Pacific Islander community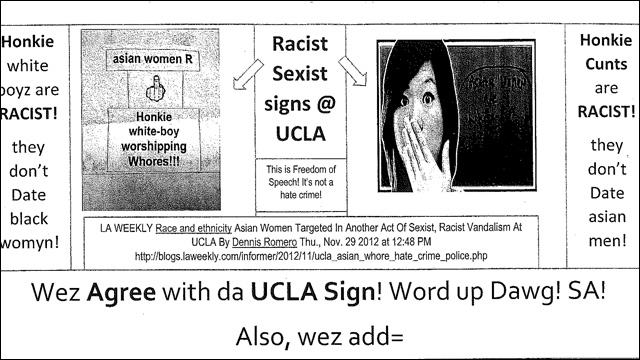 For a school with a significant Asian student population, UCLA has dealt with its share of recent anti-Asian incidents, from the now-infamous
"Asians in the Library"
video to last year's
vandalism
of the Vietnamese Student Union office. This week, the school received another reminder that these incidents weren't isolated, pointing to an ugly, underlying and ongoing trend of discrimination and hate on campus.
UCLA groups call for support in response to offensive flier
On Wednesday, the UCLA Asian American Center received an anonymous document containing a multitude of racist and sexist slurs directed at various groups, echoing the sign that was left at the VSU office in fall of 2012. This one literally "agrees" with that flyer. I hate to say it, but from the looks of it, this near-nonsensical screed appears to be the work of some bitter asshole Asian guy, maybe.
Here's the full flyer (warning: it contains offensive language and imagery, as well as poor design):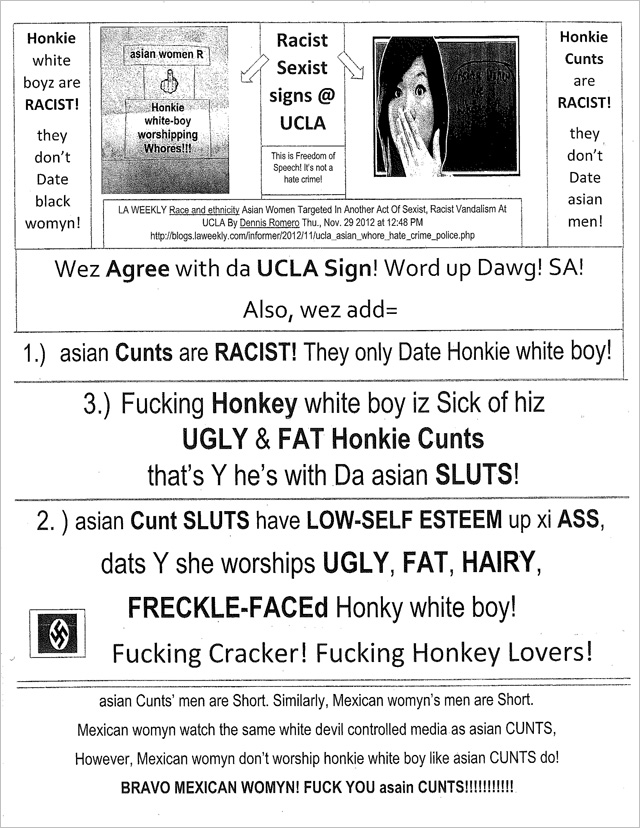 Composition-wise, I appreciate all the hand-drawn boxes, and the attempt at a numbering system, as if there was some semblance of design and an organization of ideas put into this crazy-ass hate. And seriously, a URL citation? Did this flyer really need a bibliography? It's like recommended reading for haters. Thanks, but there's enough of this bullshit online -- nobody was asking for the 8.5 x 11 paper version.
Also, who the hell uses the word "honkie"?
Here's an
official statement
in response to the flyer, from UCLA's Asian Pacific Coalition, Pacific Islands Students Association, Samahang Pilipino and Vietnamese Student Union, and co-signed in solidarity by over other student organizations:
On Wednesday, February 5, 2014, students were alerted of an anonymous document sent to the UCLA Asian American Studies Center containing what can only be described as a collage of sexist slurs and racial epithets against various groups of the UCLA community. The document evokes the imagery from Fall Quarter 2012, when a sign stating "asian women R Honkie white-boy worshipping Whores" was posted outside the UCLA Vietnamese Student Union Office.

Although we would like to believe that an incident like this is "isolated," as stated by UCLA spokesperson Steve Ritea, we know that these incidents have been recurring year after year.

In 2011, Alexandra Wallace's viral video, "Asians in the Library," illustrated the toxicity present at the UCLA campus. Incidents in 2012 such as Danny Chen's Suicide, Professor Kieu-Linh Caroline Valverde's appeal against denied tenure at UC Davis, the Asian Women R Bulletin Board vandalism at UCLA, and the release of Richard Sander Report continue to illustrate the hostile campus climate at UCLA. The publication of the Pew Research Report in 2013 perpetuated false stereotypes of the model minority myth — stereotypes that function to homogenize Asian Pacific Islanders and to ignore its diversity and the disparities that many groups experience. 2013 also included the release of the Moreno Report, which drew attention to the existence of faculty discrimination and the University's lack of an adequate system to handle cases of racial bias, including an incident where female Asian faculty were told, "I thought Asian women were supposed to be submissive." At a top-tier university that celebrates and lauds its diversity, comments like these from faculty are unacceptable.

These events reveal a disturbing trend among not only UCLA staff, faculty, and students, but the larger community as a whole. Many incidents continue to reinforce the misguided perception that Asian Pacific Islanders have 'achieved success' in the United States; a model for other 'less successful' minorities to follow. When viewing the increased enrollment of Asian Pacific Islanders in the UC since 1994, it seems clear that Asian Pacific Islanders have successfully gained access to higher education. However, simple statistics fail to reveal the continued low enrollment of Southeast Asians while also failing to account for the decreased admission rates for Asian Pacific Islanders as a whole.

Popular reports, such as the aforementioned Pew Research Center study, portray only one narrative: that Asian Pacific Islanders are successful. While portrayals of success are not necessarily negative, they silence communities that do not fit the mold of the "successful" Asian Pacific Islander and invalidate their experience. For example, reports tend to conveniently leave out the fact that Asian Pacific Islanders are the fastest growing poverty population and that Southeast Asian and South Asian communities are subject to high racial profiling. By masking the struggles of Asian Pacific Islanders, mainstream media creates a racial hierarchy in which Asian Pacific Islanders are purportedly at the "top," dividing communities of color away from organizing effectively with each other.

Every year, at least one discriminatory and racially biased incident occurs, and many more go unreported. To allow these attacks to remain unaddressed, whether they are intended to hurt or draw attention, is to tacitly endorse the marginalization of our community, to accept being painted as perpetual foreigners, and to allow for the exotification and objectification of women of color.

These racially biased incidents cannot continue.

Therefore, we call upon the President of the UC and the UCLA Chancellor to affirm their support for Asian Pacific Islander communities on campus. We demand culturally relevant and competent representation on all levels of faculty, staff, and administration; preservation and advancement of Ethnic Studies programs; and prioritization of programs and initiatives that support a truly inclusive campus.

We call upon other communities at UCLA and beyond to join us in solidarity in recognizing the ongoing challenges that students of color experience in higher education.

Signed,

Asian Pacific Coalition at UCLA

Pacific Islands Students Association at UCLA

Samahang Pilipino

Vietnamese Student Union at UCLA

Someone has a lot of hate in their heart and waaaaaaay too much time on their hands. Like I said the first time around, it looks like somebody's pathetic troll-tastic internet rant spilled over into the real world.
To the person(s) who created this flyer, you're a fucking coward. Enjoy this little moment of whatever-you-want-to-call-it. If you're the kind of person who would go out of your way to compose, print and send this tree-wasting hate-vomit, I imagine the rest of your life is pretty shitty.