19-year-old Michael Deng suffered major head trauma in a fraternity hazing ritual.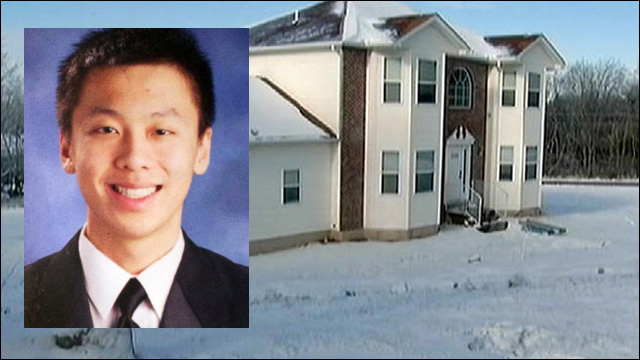 The death of a New York City college student who was repeatedly tackled during a fraternity hazing ritual has been declared a homicide -- which could mean possible criminal charges against some of his fraternity brothers.
Baruch College Hazing Death Ruled A Homicide
18-year-old Chun "Michael" Deng, a freshman at Baruch College, suffered major head trauma while participating in an initiation ritual at Pi Delta Psi's fraternity retreat in Pennsylvania's Pocono Mountains last December.
Deng sustained a fatal brain injury after being tackled during an activity called "The Gauntlet," which required pledges to wear blindfolds and sand-filled packs in the freezing dark. The Luzerne County Coroner's Office has classified the case as a homicide:
lindfolded and wearing a backpack containing 20 pounds of sand, Deng's objective was to make it to a certain member without being tackled by other members of Pi Delta Psi, according to authorities. But Deng was shoved, apparently fell and struck his head, Pocono Mountain Regional Police wrote in an affidavit.

The affidavit alleged that instead of calling 911, fraternity members took Deng inside, changed his clothes and conducted Google searches about his symptoms before taking him to the closest hospital, where he died the next day. While they were at the hospital, one brother called back to the house to tell the members to dispose of "all fraternity memorabilia and items," the affidavit alleged.

After Deng was knocked unconscious, and it was apparent that he was seriously hurt, fraternity members reportedly waited an hour or more to take him to the hospital, then lied to police and tried to cover up the fact that it was a fraternity gathering. The Monroe County District Attorney plans to file criminal charges.
I was never part of a fraternity. I know plenty of great people who were and are active members of Greek life, and I know this incident is not representative of their experiences. I just have a hard time understanding what is so appealing about joining an organization that would require someone to endure such bullshit to gain membership.
More here:
Hazing Death of Baruch Freshman Declared a Homicide