15 points, 11 rebounds and 10 assists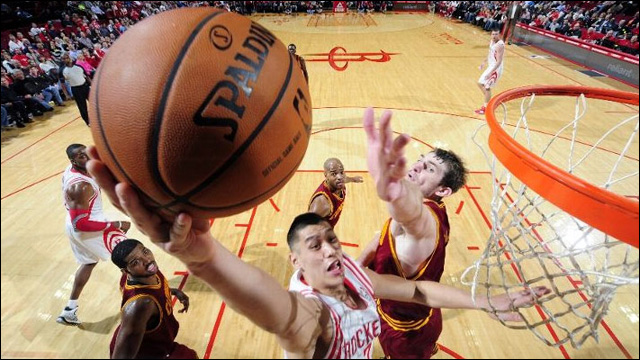 BOOM. Maybe just a coincidence, but our dude Jeremy Lin is developing a habit of doing awesome things the night before the Super Bowl... On February 4, 2012, the unknown, unheralded point guard came off the New York Knicks bench to drop 25 points and kickstart what we now affectionately refer to as "Linsanity."
On Saturday night, Jeremy achieved another milestone, earning his first career triple-double -- scoring 15 points off the bench, along with 11 rebounds and 10 assists -- and helping lift the Houston Rockets to a 106-92 win over the Cleveland Cavaliers. All to the chants of "Lin! Lin! Lin!" from the Toyota Center crowd.
Lin's first career triple-double paves road for Rockets' win
Jeremy was on fire. And he did it off the bench. Actually, it was the first triple-double for a Rockets player off the bench in nearly 16 years -- not since Cedric Maxwell's triple double on March 31, 1998.
Here are some
highlights
from the game:
And here are
all
of Jeremy's highlights from the evening:
Not a bad way to celebrate the two-year anniversary of Linsanity.
More here:
Lin's triple-double leads Rockets to win