Women's hockey veteran won her fourth Olympic medal at Sochi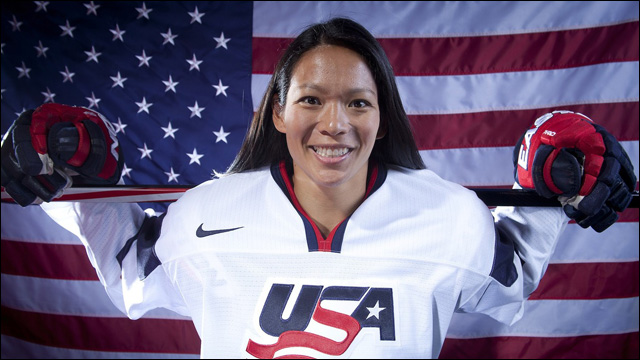 The U.S. Women's Hockey Team's valiant pursuit of gold at the Sochi Olympics ended Thursday with a heartbreaking loss to Canada. They nearly had it in the bag, but Canada fought back to score two goals with under four minutes remaining, tying it up and dramatically winning in overtime.
Still, a silver medal ain't nothing to shake a hockey stick at. Mad props to forward Julie Chu, who received the
fourth Olympic medal
of her career. At 31, this will probably be her last Olympics. But the decorated veteran has been tasked with one last duty for Team USA: she'll carry the American flag at the closing ceremony.
NEWS: 4x Olympic medalist Julie Chu (@juliechu13) selected as #TeamUSA's flag bearer in #Sochi2014 Closing Ceremony pic.twitter.com/iGjKqS1ftD

— US Olympic Team (@USOlympic) February 21, 2014
In one of the weirdest, wildest Winter Olympics ever -- for a variety of reasons -- Julie Chu stands out as one of coolest, classiest athletes on ice, and a totally fitting choice to carry the flag for the United States.
Thank you everyone for the overwhelming support this entire Olympic Games. I am so blessed to be a part of this team. My sisters #TeamFirst

— Julie Chu (@juliechu13) February 20, 2014
I'm still in shock that I've been chosen as the flag bearer. What a humbling honor. Such an amazing Team USA Delegation! @Bel13veKaydeNYM

— US Olympic Team (@USOlympic) February 22, 2014
More here:
Julie Chu Selected As Closing Ceremony Flag Bearer For 2014 U.S. Olympic Team