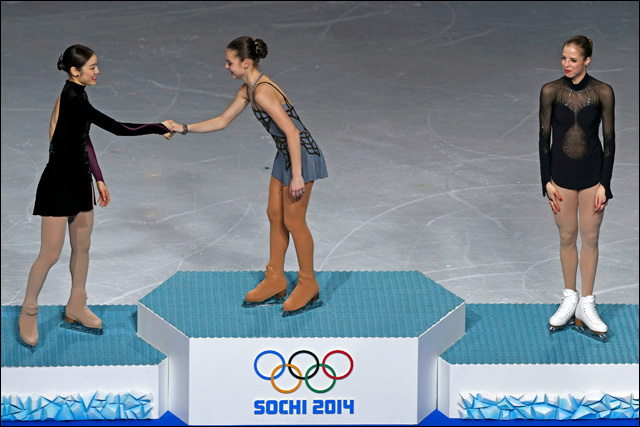 Change.org Crashes After 1.5 Million People Sign Petition To Overturn Olympic Figure Skating Result
: Russia's Adelina Sotnikova won the Olympic gold medal in an upset over South Korea's Yuna Kim, and angry figure skating fans lost their shit, flooding an online petition with signatures calling for an official investigation into the controversial result.
Why People Think Adelina Sotnikova's Figure Skating Gold Medal Was Rigged
: Whether we're talking about scoring inconsistencies, judging conspiracies or home court advantage, this article breaks down some of the glaring reasons why Adelina Sotnikova's detractors are up in arms.
Adelina Sotnikova hugs judge moments after winning gold
: Then there's this conspicuous hug between Adelina Sotnikova and Russian figure skating judge Alla Shekhovtsova that has folks saying hmmmmm...
Yuna Kim Is A Winner For Reasons That Really Count
: Whether or not you believe Kim Yuna's silver medal shock was unfair, she walks away from professional figure skating as a true winner. Queen indeed.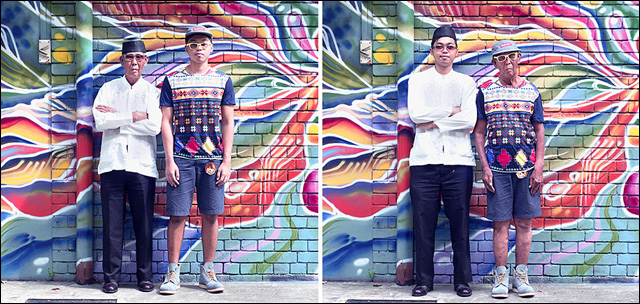 Asian Youth Trade Outfits With Their Elders To Make Us Rethink Age Stereotypes In Fashion
: Photographer Qozop captured pairs of relatives swapping outfits in his aptly-named "Spring-Autumn" series.
UCLA, USC students band together after racist fliers hit campuses
: Members of UCLA and USC's Asian Pacific Coalition convened to talk about the ignored racism against APIs on their campuses. The town hall meeting was organized in the aftermath of both schools receiving identical copies of a racist flier.
Razing Arizona
: Actor/activist George Takei writes a passionate, fiery letter to the state Arizona, promising one hell of a fight if the discriminatory "Turn Away the Gay" bill is signed into law.
In Which I Seek My Father
: Noah Cho's trip into geekdom was also about searching for his dad.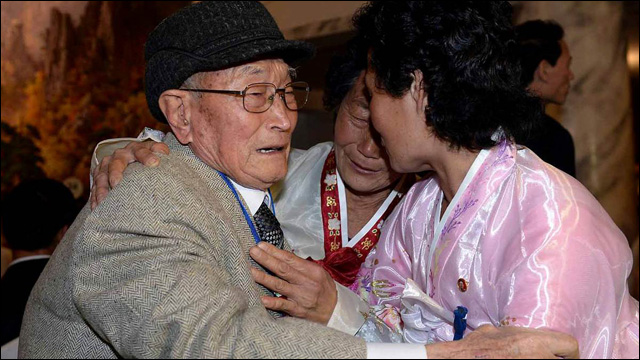 Heartbreaking Photos of Korean Families Reunited After 60 Years
: A group of 82 elderly, frail South Koreans, two of them in ambulances, left for the North Korean border to attend the first reunion in more than three years for families divided by the 1953 Korean War.
'An unprincipled fortress on a hill': ACLU on why WWII internment camps are still relevant today
: Last week marked the 71st anniversary of Executive Order 9066, which forcibly removed Japanese Americans into prison camps during WWII. In remembrance of that day, Carl Takei, a Staff Attorney at the ACLU's National Prison Project, wrote about his and others' efforts to end racial injustices in the U.S. prison system.
Decades after internment, Japanese-Americans warn of what's still possible
: As they mark Day of Remembrance, former detainees warn that talk of national security can still trump Americans' basic rights.
The Lives Of Blind Brothers Changed When 'Dad' Came Knocking
: The lives of Leo, Nick and Steven Argel -- triplets who have all been blind since birth -- changed the day Ollie Cantos knocked on their door.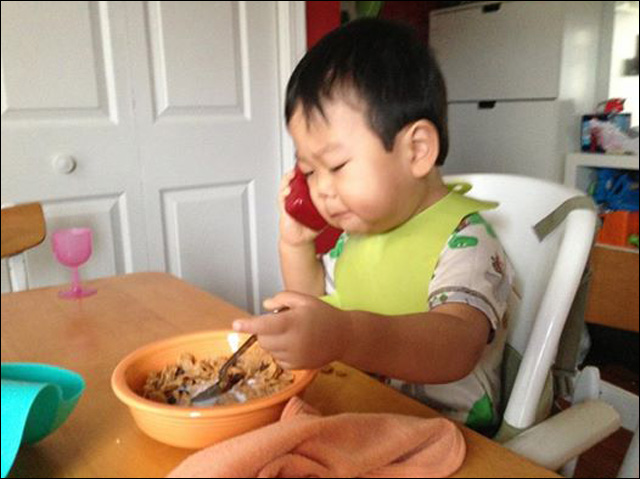 Perhaps the greatest photo meme ever
: A young dad posted a pretty awesome photo of his kid on Facebook, and soon enough, as awesome photos tend to do, it became the internet's latest viral meme.
Your next big, addictive TV series could be from South Korea
: Oh, you're not into K-Dramas yet? That could change soon. But watch out -- you might just get hooked.
South Korea's High School Students Take The Best Yearbook Photos In The World
: When it comes to yearbook photos, the students at Jeonju Haesung High School know how to take the weirdest and funniest ones you've ever seen -- absolutely no shame in their game.
The Lazy Susan, the Classic Centerpiece of Chinese Restaurants, Is Neither Classic nor Chinese
: How the rotating tool became the circular table that circled the globe.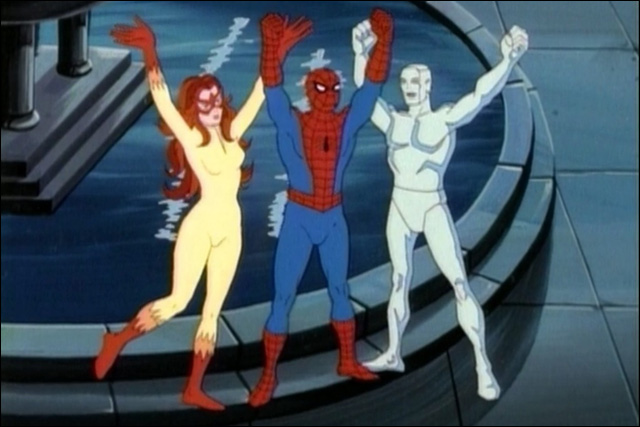 On Spider-Man, Puppet Monkeys, and Saturday Morning Chinese School
: Gene Luen Yang on the inspiration behind his first superhero comic book,
The Shadow Hero
, being released in six digital issues.
How I Taught Arthur Chu to Be the 'Jeopardy!' Champ Everyone Loves to Hate
: The month before he went on
Jeopardy!
, Arthur Chu read Keith Williams' blog -- and schooled himself on game theory.
Kung Fu Journal (February 22, 2014)
: David Henry Hwang writes up the final rehearsal journal for his new play
Kung Fu
, which officially premieres off-Broadway on February 24.
Harry Shum Jr. is Glee's tech go-to guy
: Harry Shum Jr. is best known for his role as Mike on
Glee
and his new gig as a broke superhero on
Caper
, but did you also know he's into tech?