Runners will race on behalf of Boston University's Lu Lingzi Scholarship Fund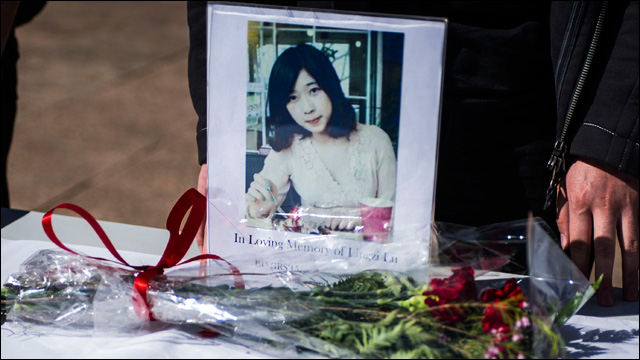 The family of Lu Lingzi, the Boston University graduate student from China who was killed in the
2013 Boston Marathon bombings
, has designated seven of its 2014 Boston Marathon invitational entries for members of the BU community, who will run on behalf of the scholarship fund established in Lu's memory.
Runners Selected by Lu Family to Run Boston
Lu, who moved to Boston from China to pursue a Master's degree in statistics, was one of three people killed in the attacks on April 15, 2013. In response to the worldwide outpouring of support, university trustees established the Lu Lingzi Scholarship Fund, which provides financial assistance to BU graduate students.
The Boston Athletic Association, organizers of the Boston Marathon, granted the Lu family 15 invitational entries, which exempt runners from the requirement of meeting the race's strict qualification standards. From 211 applicants, they selected seven runners from the BU community, including three current students from China:
The group of selectees also includes three current BU students from China. Shuheng Lin, Yujue Wang, and Baiyun Yao did not know Lu Lingzi personally, but each one sees a bit of herself in Lu.

"There were things we shared as international students, [including] the confusion and excitement of adapting to a completely different culture. It is a rewarding but challenging process that requires a lot of patience and tenacity, very much like taking on a marathon," said Lin, a fifth-year doctoral student in Economics at BU.

While there is no minimum amount that each runner must raise for Lu's scholarship, the selected runners will collectively work to raise funds. Wang sees the experience as "an opportunity to raise the awareness of the unforgettable event from last year. It also provides a platform for people to show their compassion and support through donation to our memorial running journey.

The 2014 Boston Marathon will take place on April 21. To learn more about the Lu Lingzi Scholarship Fund, go
here
. Good luck to Team Lu for BU as they run the 26.2 miles in Lingzi's memory.