In honor of Arthur's return, Jenny Yang and I will be live-tweeting Jeopardy! tonight, 7:00PM PT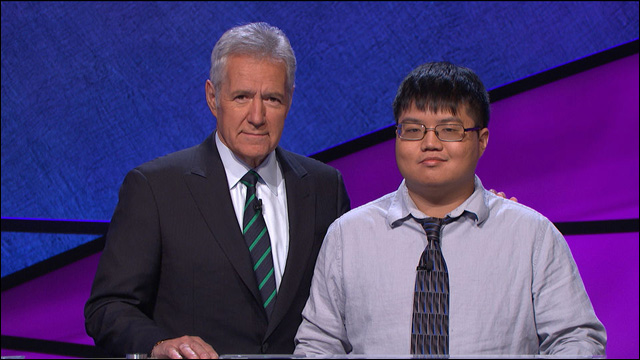 The "villain" of
Jeopardy!
returns! The perennial TV quiz show returns to regular competition tonight, and with it, controversial contestant
Arthur Chu
, the current champion who's drawn the ire of traditionalists and Twitter haters for his aggressive, unorthodox gaming methods. Also -- let's be real -- because he's Asian.
Asian-American Contestant, 'Villain' of 'Jeopardy,' Set To Return
They're calling him a "despicable human being." They're calling him "the worst
Jeopardy!
contestant of all time." They're calling him "Asian." Well, he is Asian. In fact, much of the criticism seems to be stemming from the fact that Arthur does sort of fulfill the "Asian nerd" stereotype. The best part? Arthur does not give a f*ck.
If Arthur gets painted as a villain because he's using tactics that win, so be it. As for the charge of being an Asian nerd, Arthur says bring it. Ain't no shame in his game. He's not going to apologize for being who he is, and he's made that clear in his response to the haters. In fact, I think he comes off intelligent and affable.
My kind of nerd. Yes, it helps to know a truckload of trivia. But hell, strategy goes a long way too, and his tactics are working. You can make fun of a
Jeopardy!
contestant all you want, but there's a lot of money at stake. Arthur's winnings currently total $102,800. Hate all you want. Arthur is running game.
Count me in as an Arthur fan. Comedian/writer
Jenny Yang
is too. If you read this in time, and happen to tune into
Jeopardy!
tonight (Monday, February 24, 7:00pm Pacific Standard Time), Jenny and I will be live-tweeting during the show in support of Arthur and his badass game show prowess. TEAM ARTHUR!
More here:
Controversial Jeopardy! champ Arthur Chu tells his story