Undercover cop posed as inmate to get Vanesa Zavala to talk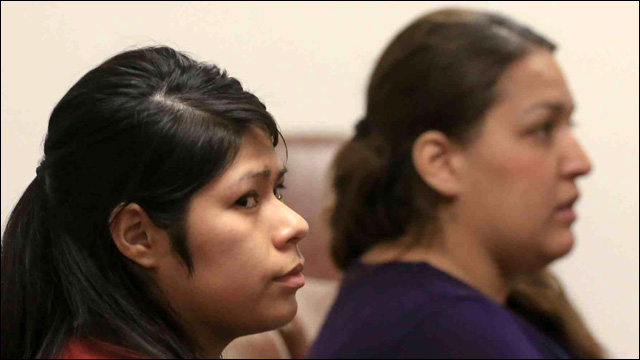 Two women accused in the beating death of 23-year-old Kim Pham last month outside a Santa Ana nightclub have been ordered to stand trial on murder charges. During a preliminary hearing, police played cellphone videos that show Vanesa Zavala and Candace Brito punching and kicking Pham before she lost consciousness.
Vanesa Zavala, Candice Brito To Stand Trial For Death Of Annie Hung Kim Pham
Zavala, 25, and Brito, 27, have both pleaded not guilty in Pham's death, who was taken off life support after the altercation left her brain dead. According to prosecutors, Brito punched and kicked Pham multiple times in the head. After she was pulled away, Zavala punched Pham once more in the head with her booted foot.
Police detectives played cellphone video footage to identify those involved with the fight:
Senior Deputy Dist. Atty. Troy Pino played a video shot on a cellphone of the incident and asked Santa Ana homicide Det. Leo Rodriguez to identify those involved in the fight.

He first identified Zavala, who appeared to be stooping over and reaching for something on the ground with her right hand. Seconds later, the video shows a woman clad in black pants, a black shirt and a blue sweater launching what investigators believe was the first punch in the altercation.

"That is victim Pham," Rodriguez said.

Brito is singled out moments later, talking to a security guard who had pulled her aside. She is then seen walking around the fight, which spilled onto the ground, and making a kicking motion toward the sidewalk.

It does look like Pham threw the first punch in the altercation, but that sure as hell doesn't justify how it all went down -- certainly not multiple people punching and kicking her in the head after she fell to the ground.
The cellphone video is particularly damning. But a police detective also testified that she went undercover into Zavala's jail cell, trying to get her to reveal details about the fight. Zavala apparently did indeed talk about what happened, and the hour-long conversation was secretly recorded.
Another hearing is set for next week.
More here:
Cop posed as inmate to record suspect in Kim Pham beating death