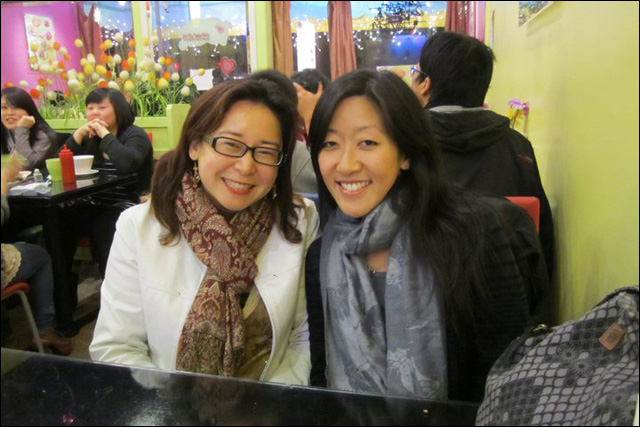 Hey everybody! It's that time again. Time for you to meet the
Angry Reader of the Week
, spotlighting you, the very special readers of this website. Over the years, I've been able to connect with a lot of cool folks, and this is a way of showing some appreciation and attention to the people who help make this blog what it is. This week's Angry Reader is Tamiko Wong.
Who are you?
I'm a strong Asian Pacific American woman who is active in the community. I'm a 3rd generation Chinese American and a 4th generation (yonsei) Japanese American who was born and raised in San Francisco. I went to Cal where I studied American law, politics, and public policy and minored in Asian American Studies and Education. I thought I was going to be a broadcast journalist ... maybe I still will be.
What are you?
I'm an Executive Director (of
Oakland Asian Cultural Center
), a commissioner for the CA Commission on Asian and Pacific Islander American Affairs, a board and former board member for OCA-San Francisco, Cherry Blossom Alumnae, Asian Business League-San Francisco, and the Japanese Cultural and Community Center of Northern California, the fiancee' of an awesome Japanese/Chinese American who does ballet, swing, Minyo traditional Japanese dancing, and plays Shamisen (Japanese banjo) plus has a "real" job and PhD, daughter of young parents who sometimes forgot to pick me up from school because they were too busy playing Pac-Man and Space Invaders, a sister, a chocolate lover, a PAAWBAC Monarch, and an SGI Buddhist (there are lots of ways to get up the mountain; this works for me). I'm also a patient advocate. Both of my parents had strokes. If you smoke, please quit today or ASAP.
Where are you?
Home in my bathrobe (luckily I get to work from home a few days a week). Mid-career, about to turn 40 and get married.
Where are you from?
Richmond District, Japantown, Chinatown, San Francisco, California, USA, Earth. Nihonmachi Little Friends Preschool, JBBP (aka the Japanese Bilingual Bicultural Program), Presidio Middle School, Wash (aka George Washington High School), Cal (aka UC Berkeley), College of Alameda, City College of San Francisco, SDSU (aka San Diego State University). Babysitting, KFC, Landor Associates, Nordstrom, Westin Hotels, Good Guys, AsianWeek Foundation, Oakland Asian Cultural Center. αΚΔΦ, AKD, ΦΚΦ. LEAP (aka Leadership Education for Asian Professionals), APAWLI (aka Asian Pacific American Women's Leadership Institute), and the JACL/OCA Leadership Summit.
What do you do?
Build community, meet people, connect people, help people, serve. Have fun, laugh, take lots of pictures, Facebook, learn, teach, sing, write poetry, and collect Pez dispensers.
What are you all about?
Collaborations, friendships, win-win-wins. Talented people who inspire me like Cynthia Lin, Seiichi Tanaka, and Grace Lee Boggs. Yummy things like Socola and Jade Chocolates. Supporting Asian and Pacific Islander owned businesses and other wonderful APIs. Family history. Breaking new ground.
I'm all about building community - particularly in the Asian & Pacific Islander community. I think we can do a lot together even when we don't agree. There's so much beautiful diversity and also a lot that we have in common.
What makes you angry?
People who litter. Hate crimes (RIP Vincent Chin, et al). Discrimination based on race, gender, status, etc.