Allison Chen was two months away from opening her first restaurant when she unexpectedly passed away.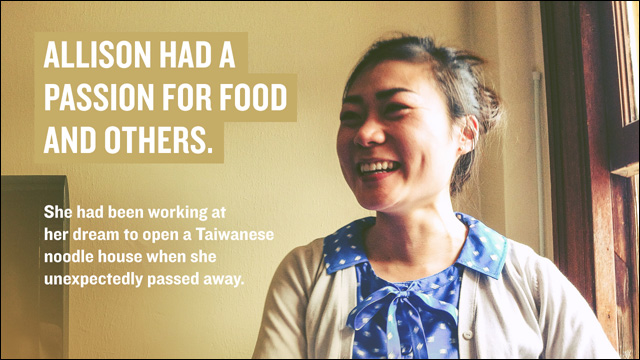 Allison Chen had a dream of opening up a restaurant that serves fresh, authentic dishes from Taiwan and China. But one month from opening Pi Dan Noodle House in Uptown Oakland, she unexpectedly passed away.
Now, Allison's friends and family are picking up where she left off, and they're rallying folks to help reach her dream. They're
raising funds
to cover the remaining construction and equipment costs needed to open up Pi Dan in June 2014. Can you help make Allison's restaurant dream a reality?
Watch this video for more information:
The goal is to raise $75,000 by April 14 to complete construction and install equipment at Pi Dan. To learn more about Allison, her dreams, and the plans for Pi Dan, head over to
Indiegogo
, where you can lend your support.
Next time I visit Oakland, I want to eat at Pi Dan. So let's make this happen!