Decorated hero of the Korean War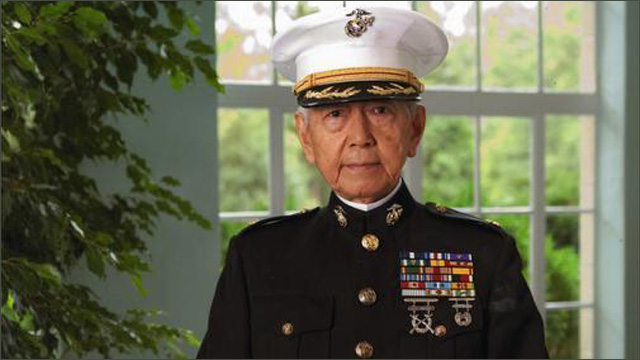 Major Kurt Chew-Een Lee, the first Asian American officer in the U.S. Marine Corps, who was decorated for his legendary service in the Korean War, has died this week at his home in Washington DC. He was 88.
Obituary: Maj. Kurt Chew-Een Lee, 88, was Korean War hero
The son of Chinese immigrants, Maj. Lee was a gung-ho Marine who climbed the ranks and broke barriers during a time strong racial prejudice. A recipient of the Navy Cross, the Marines' second-highest honor -- really, experts say deserved higher -- Maj. Lee is perhaps best known for his fierce bravery in combat during a assault by Communist Chinese forces in Korea on the night of November 2-3, 1950.
The 2010 documentary
Uncommon Courage: Breakout at Chosin
, recounts how Lee led 500 men through a nighttime blizzard and rebuffed an attack by enemy forces to save 8,000 Marines from capture at Chosin Reservoir.
To spur his men to fight, he took off in the darkness on a one-man raid and exposed himself to fire to pinpoint enemy positions for attack. Shouting in Mandarin to sow confusion, he hurled grenades and shot at Chinese troops, who fled. Wounded in the knee, he was shot the next day by a sniper and treated at an Army field hospital.

Unwilling to be sent to Japan for treatment, Maj. Lee took a Jeep without approval and drove with another wounded Marine to rejoin their platoon in Baker Company of the 1st Battalion, 7th Marine Regiment. He was assigned to help relieve a Marine division that was encircled by overwhelming enemy numbers while trying to defend their only escape road in the bloody Battle of Chosin Reservoir in December 1950.

Guided only by a compass in pitch-black darkness, he led 500 men through a nighttime blizzard over mountainous terrain at 20 degrees below zero. Pinned under intense enemy fire, he ordered his men to fire while advancing up a steep hill and shot two enemy soldiers along the way with his right arm still in a cast from his sniper wound. The ferocity of the Marine attack broke the resistance of enemy troops, who fled down the reverse slope.

Maj. Lee suffered another bullet wound in his right arm during the successful operation, which enabled 8,000 Marines to escape annihilation by 60,000 Chinese troops. Several days later, he was hit by machine-gun fire that ended his combat service in Korea. Although he received the Silver Star – the third-highest medal for bravery in combat – fellow Marines and other veterans who have studied his actions during the attack have argued that he deserved the highest award, the Medal of Honor.

The Smithsonian Channel will
rebroadcast
Uncommon Courage
in observance of Maj. Lee's passing.
More here:
First Asian American in United States Marine Corps passes away