"Let me guess, you just came off the boat?"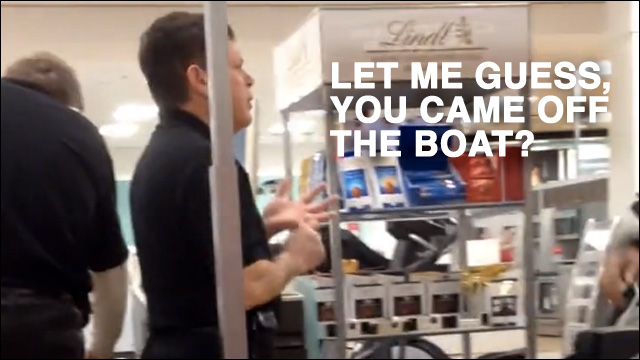 Retail racism! Caught on camera... This one comes to us from our neighbors to the north, where Sears Canada has fired an employee for making a racist remark during an altercation with an Asian customer.
Sears Employee's Racist Remark Caught On Video
The racially charged incident went down at the Sears location in the Polo Park Shopping Centre in Winnipeg. During the heated exchange, which was caught on a video and posted to
Facebook
, the employee says to the customer,
"Let me guess, you came off the boat?"
Oh hellllll no.
Incensed by the derogatory remark, the customer goes OFF, unleashing a tirade on the guy and calling him, among other things, a "racist fuck." He clearly wants to kick his ass. Can you really blame him? Check it out:
I really appreciate the "oh, shit" faces on everyone standing around.

It apparently all started when the employee asked the customer to remove his child from a riding lawnmower on display, saying it wasn't a toy. It's not clear what happened after that, but there sure as hell wasn't any reason for Mr. Sears to bust out the racist shit. Employee of the f*cking month, y'all.

And then consequences. A company spokesman initially confirmed that the employee was suspended, then later terminated after an investigation of the incident.

More here: Sears employee fired after racial clash with customer