Connected to FBI investigation also involving notorious Chinatown gangster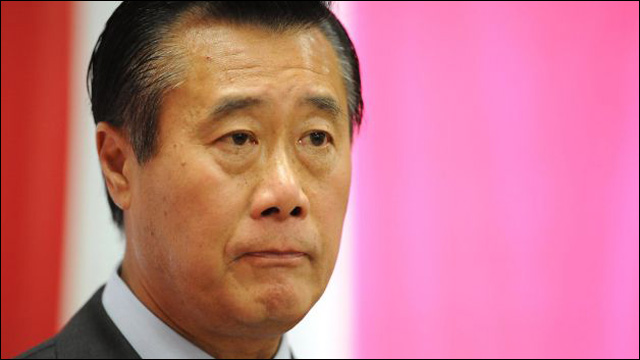 Uh oh. California State Senator Leland Yee has been arrested on public corruption charges. This morning in San Francisco, Yee was taken into custody amid FBI raids of his office in Sacramento, as well as multiple searches and arrests in a multiagency sweep across the Bay Area.
State Sen. Yee arrested on public corruption charges
According to the
San Francisco Chronicle
, the raids are connected to a fatal shooting from about five years ago, and may involve a notorious former Chinatown gangster, Raymond "Shrimp boy" Chow.
Among the locations being searched was a building on the 1700 block of Hyde Street and Yee's office in Sacramento, where California Highway Patrol officers were posted outside the door.

San Francisco police and the FBI were also searching the Ghee Kung Tong Supreme Lodge belonging to the Chinese Freemasons on Spofford Street in San Francisco's Chinatown. Chow has served as head of the group.

In 1992, the Hong Kong-born Chow was indicted with two dozen others on racketeering charges for their alleged involvement in everything from underage prostitution to the international heroin trade.

Chow was subsequently convicted of gun charges and sentenced to 25 years in prison. In 2003, however, he was released after he cut a deal with the government to testify against a high-ranking associate.

Details on the case are still developing.
Yee, who seems to be unable to avoid hitching himself to scandals, is a candidate for California Secretary of State, one of the state's seven highest offices. This development ought to do wonders for his campaign.
More here:
Leland Yee reportedly arrested in corruption case
UPDATE: Damn. Some more details about Leland Yee's arrest... According to authorities, Yee solicited money from undercover FBI agents for his current campaign to be secretary of state, attempting to facilitate a gun-trafficking deal in exchange for campaign donations:
Yee was one of 26 people charged after a five-year racketeering, gun running, narcotics and money-laundering investigation that also targeted Raymond "Shrimp Boy" Chow, a notorious former San Francisco gangster, officials said, and Keith Jackson, a 49-year-old former San Francisco school board member.

Yee was charged in U.S. District Court with conspiracy to traffic in firearms without a license and to illegally import firearms, as well as with participating in a scheme to defraud citizens of honest services. Efforts to reach his chief of staff were unsuccessful.

A 137-page criminal complaint alleges that Yee took $10,000 in exchange for lobbying a state agency for a contract; $6,800 for honoring Chow's Chinatown association with an official Senate proclamation; and $21,000 for introducing a donor pushing legislation to influential lawmakers.

Daaaaaaaaaamn.