Thug. Villain. Smartass. Champion. Hero.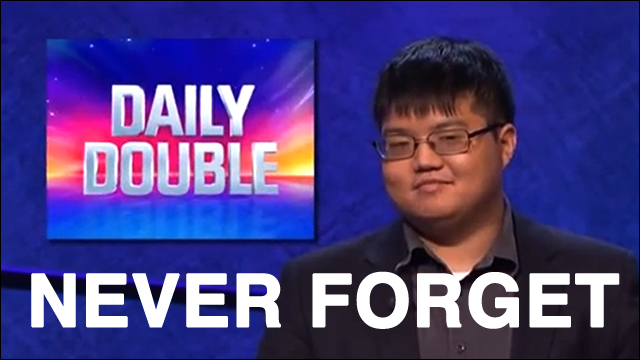 Gotta give some props to
Jeopardy!
champ Arthur Chu. On Wednesday night, the so-called "villain" of the perennial game show made his exit, ending a controversial, much-publicized 11-game winning streak. When all was said and done, Arthur walked away from the podium with nearly $300,000.
'Jeopardy!' champ Arthur Chu bows out
It was a glorious run, perhaps mostly notably marked by Arthur's aggressive, unorthodox playing strategy, which drew the ire of the quiz show's traditionalists and general everyday haters. The best part? Arthur never took shit from anybody, hopping on Twitter to strike back at critics with his trademark wit and DGAF attitude.
We loved it. During a good part of his badass run, my comedian pal Jenny Yang and I virtually gathered Arthur's devotees ("The Chu Crew") for live-tweet sessions of each game using the hashtag
#ChuOnThis
. Yeah, we're a bunch of nerds, and we had a blast. Thank you, Arthur, for dropping knowledge and good times.
And yes, Arthur will be back for
Jeopardy's
Tournament of Champions. The Chu Crew will be ready.