Presented by Visual Communications, May 1-11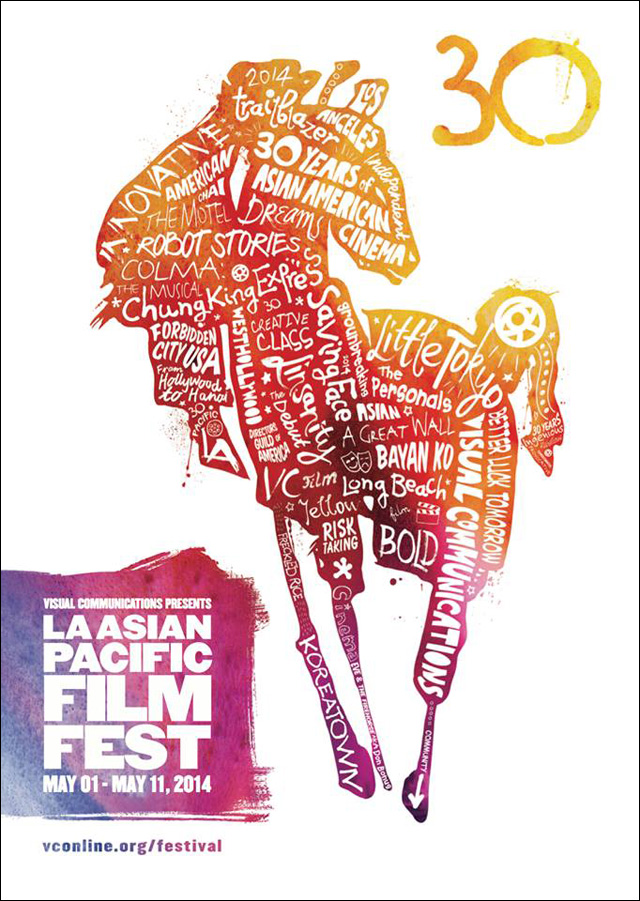 Heads up and make plans, Los Angeles film fans. This is a big one. I want to personally invite you to join me at the
2014 Los Angeles Asian Pacific Film Festival
, presented by Visual Communications. The 30th anniversary festival, featuring a lineup of 143 films and running May 1-11, is a celebration of cinema, storytelling and community. Between a packed schedule of narratives, documentaries, shorts, parties, panels and other special programming, there's definitely something for everyone...
TO BE TAKEI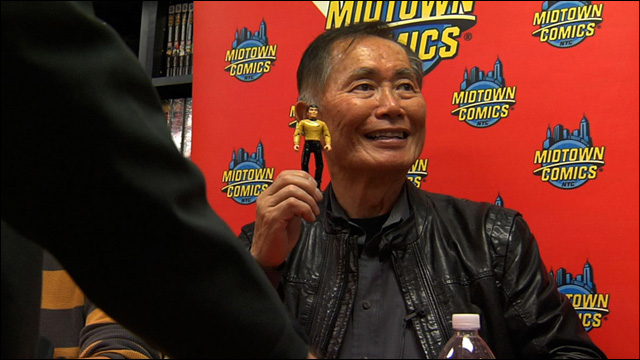 The festivities kick off with the Opening Night Gala Presentation of
To Be Takei
, a feature documentary on the celebrated life and work of legendary actor/activist George Takei. Directed by Jennifer M. Kroot, it's a fascinating look at an icon whose career and passions have taken many turns, but remain as vital as ever. It's happening Thursday, May 1 at the Directors Guild of America, where George Takei will be joined by a star-studded array of filmmakers, celebrities and moviegoers of all stripes on the red carpet.
FARAH GOES BANG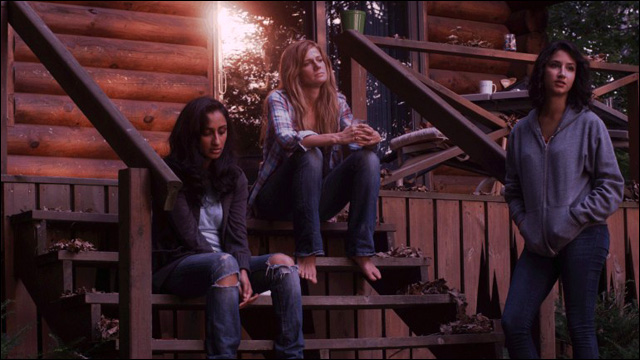 The Festival Centerpiece presentation, the road-trip comedy
Farah Goes Bang
, follows a woman in her 20s who tries to lose her virginity while on the road campaigning for presidential candidate John Kerry in 2004. The debut feature of director Meera Menon, the film premiered at the 2013 Tribeca Film Festival, where she was awarded the Nora Ephron Prize for groundbreaking woman filmmaker.
HOW TO FIGHT IN SIX INCH HEELS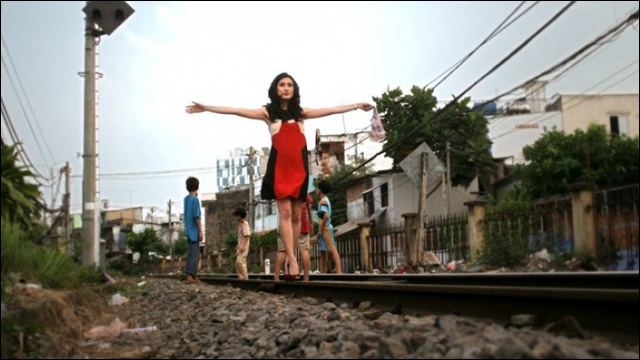 This year's Saturday Evening Showcase presents the fast-paced trans-Pacific romantic comedy,
How To Fight In Six Inch Heels
. Directed by Ham Tran, the film centers around Anne, a junior fashion designer who seems to have it all, including a master plan with her fiancé. But when he moves to Vietnam to set up a new field office for his company, she suspects him of cheating and cooks up a scheme to reveal his deceit by going undercover in Vietnam's fashion industry.
FINAL RECIPE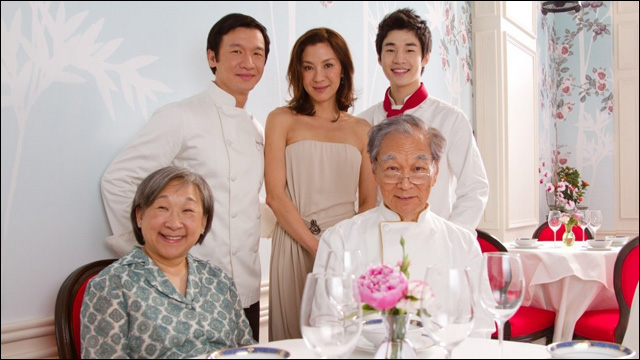 howtofightinsixinchheels01.jpgClosing out this year's celebration is the Pan-Asian culinary/romantic drama
Final Recipe
, a Korean-Thai co-production directed by award-winning filmmaker Gina Kim. Mark (played by K-Pop superstar Henry Lau of Super Junior-M) is determined to save his ailing grandfather's restaurant with a victory on the top-rated Shanghai reality show "Final Recipe." Michelle Yeoh stars as the producer of the cooking competition, and young Mark reminds her of someone she knew from years ago.
TRIBUTES TO TYRUS WONG AND SESSUE HAYAKAWA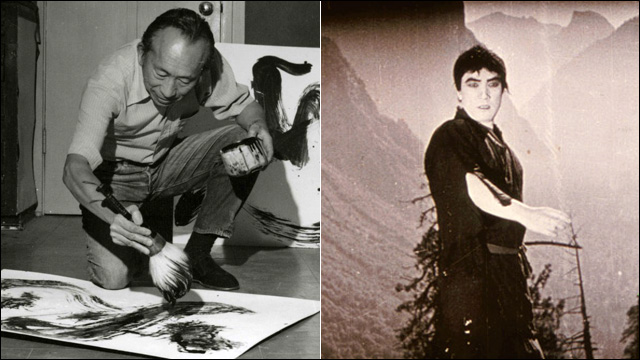 In continuing the celebration of Hollywood legends, the festival will celebrate the work of pioneering actor Sessue Hayakawa and legendary concept artist Tyrus Wong. The restrospective program includes a special presentation of Nicholas Ray's
Rebel Without a Cause
, which Wong worked on as a concept artist, and a special artist talk with Pamela Tom, director of the forthcoming documentary
Brushstrokes in Hollywood: A Portrait of Tyrus Wong
. Hayakawa's centennial tribute will comprise a twin-bill presentation of two of his starring vehicles,
The Wrath of the Gods
(1914) and
The Dragon Painter
(1919).
And that's just scratching surface of this year's packed festival program. This year's competition of Asian Pacific American feature-length films reflects a varied group of compelling storytellers.
The 2014 documentary competition line-up includes:
- 9-MAN by Ursula Liang
- CAMBODIAN SON by Masahiro Sugano
- FRED HO'S LAST YEAR by Steven De Castro
- JEEPNEY by Esy Casey
- LORDVILLE by Rea Tajiri
- THE ROAD TO FAME by Hao Wu
- STORIES FROM TOHOKU by Dianne Fukami and Eli Olson
The 2014 narrative competition line-up includes:

- BRAHMIN BULLS by Mahesh Pailoor

- CHU AND BLOSSOM by Charles Chu and Gavin Kelly

- CICADA by Dean Yamada

- FARAH GOES BANG by Meera Menon

- HOW TO FIGHT IN SIX INCH HEELS by Ham Tran

- A LEADING MAN by Steven Kung

- A PICTURE OF YOU by J.P. Chan


The 2014 international showcase line-up includes:

- 100 DAYS (Taiwan) by Henry Chan

- CONCRETE CLOUDS (Thailand) by Lee Chatametikool

- FIRESTORM (Hong Kong) by Alan Yuen

- HIDE & SEEK (South Korea) by Huh Jung

- ICE POISON (Taiwan/Myanmar) by Midi Z

- OBJECTS IN MIRROR (Iran) by Narges Abyar

- ONCE UPON A TIME IN VIETNAM (Vietnam) by Dustin Tri Nguyen

- THE PINKIE (Japan) by Lisa Takeba

- SAGARMATHA (Indonesia/India/Nepal) by Emil Heradi

- THUY (South Korea) by Kim Jae-han

- A VENGEFUL HEART (Vietnam) by Victor Vu


The 2014 Festival's national spotlight, "The New Face of Philippine Cinema" includes:

- BLUE BUSAMANTE by Miko Livelo

- DEVOTION by Alvin Yapan

- KABISERA by Alfonso "Borgy" Torre III

- REKORDER by Mikhail Red

- SHIFT by Siege Ledesma


The 2014 lineup of special presentations includes:

- AMERICAN REVOLUTIONARY: THE EVOLUTION OF GRACE LEE BOGGS by Grace Lee

- AWESOME ASIAN BAD GUYS BY Stephen Dypiangco and Patrick Epino

- THE COTABATO SESSIONS by Joel Quizon

- DELANO MANONGS: FORGOTTEN HEROES OF THE UNITED FARM WORKERS MOVEMENT by Marissa Aroy

- FAMILY INGREDIENTS by Ty Sanga

- HULA: MERRIE MONARCH'S GOLDEN CELEBRATION by Roland Yamamoto

- PLASTIC PARADISE: THE GREAT PACIFIC GARBAGE PATCH by Angela Sun

The festival box office is open for business. Get your tickets while they're hot, because screenings do sell out fast. For the full program/schedule information, including ticket and venue details, visit the Los Angeles Asian Pacific Film Festival website. My friends, I will see you at the film festival.