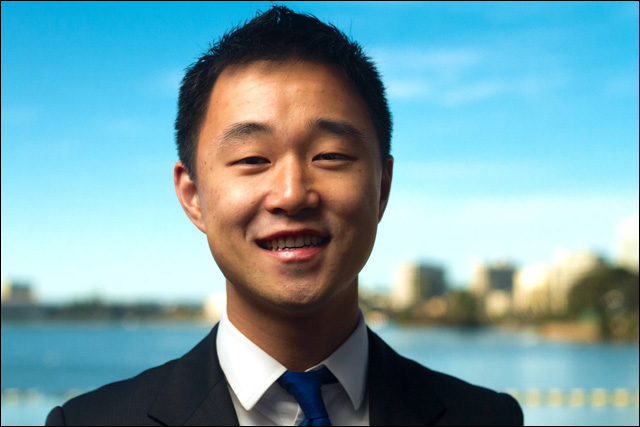 It's on, my friends. You know what time it is. It's time again to meet the
Angry Reader of the Week
, spotlighting you, the very special readers of this website. Over the years, I've been able to connect with a lot of cool folks, and this is a way of showing some appreciation and attention to the people who help make this blog what it is. This week's Angry Reader is Ju Hong, the new Mr. Hyphen.
Who are you?
My name is
Ju
, but I am Christian.
What are you?
I am a dreamer
I am a leader
I am a believer
I am a risk taker
I am an undocumented
I am an immigrant
I am a Korean
I am an American
I am an activist
I am an artist
I am a scholar
I am a public speaker
...And most importantly, I am single, trilingual, and ready to mingle. ;)
Where are you?
Currently I'm at Oakland and I "HELLA" love the Bay Area.
Where are you from?
I was born in Korea, but Korea does not recognize me. I live in America, but America does not recognize me.
What do you do?
Currently, I am a research assistant at Harvard University, working on National UnDACAmented Research Project (NURP), a national research study that seeks to understand the effects of the Deferred Action for Childhood Arrivals (DACA) program on the everyday lives of young undocumented immigrants receiving or wishing to receive its benefits.
Also, I work at Laney College as a Men's Center coordinator. I help Laney College men to achieve their academic, professional and personal goals by providing one-on-one counseling, resources referrals, weekly group sessions, and workshops and trainings.
Additionally, I am a graduate student at San Francisco State University, pursuing my Master's degree in Public Administration.
Lastly, I volunteer at many different immigrant rights organizations (such as ASPIRE and E4FC) to help organize around immigration issues in local, state, and national level.
What are you all about?
Making a difference in the lives of others.
What makes you angry?
President Obama makes me angry because he deported two million undocumented immigrant families across the country. He deported more people than any other U.S. president in the history.
House of Speaker John Boehner makes me angry because he refuses to bring up immigration reform bill in the House floor. His view on immigration is illogical and absurd.
I will stay angry until President Obama uses his executive authority to stop the deportations, and Congress passes a fair and humane immigration reform that would provide pathway to citizenship for all undocumented immigrants living in this country.