All expenses paid, experiential learning course, June 8-14 in Washington, DC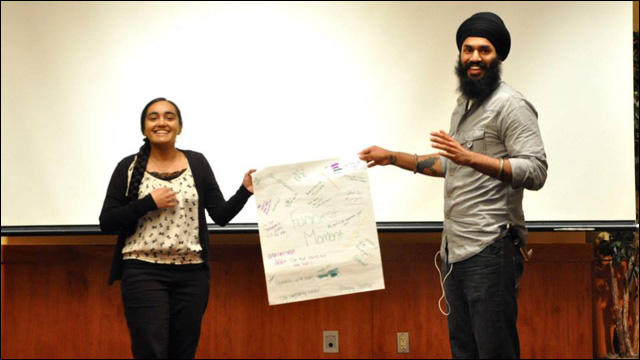 The Sikh Coalition is accepting applications for its fourth
Sikh Advocate Academy
, an innovative week-long all-expenses-paid advocacy training program happening June 8-14, 2014 in Washington DC. If you're interested in taking part, you have to act quick -- the deadline to apply is April 13.
Successful applicants will take a deep dive into the practical aspects of human rights advocacy -- including government engagement, media engagement, and community engagement -- and pledge to become social justice leaders in their local communities. Sounds like a pretty awesome opportunity.
Here are some more details about the program:
Our Vision

Our objective is to train and cultivate a corps of dedicated volunteers who will enhance the Sikh American community's fight for civil rights both locally and nationally. Through focused planning and execution, our goal over the next five years is to build a "trained and certified" corps of grassroots advocates who consistently support the cause of civil rights.

Why Should I Apply?

- Learn how to work with elected officials to make change both locally and nationally
- Receive training on social justice advocacy from professionals and ongoing year-round support from Sikh Coalition staff as you pursue initiatives in your community
- Network with fellow Advocates from around the country
- Network with change-makers in Washington, DC during the course
- Vital training that can be added to your professional resume
- Your week long training in Washington, DC will be all-expenses-paid

Application Criteria

- At least 18 years old
- Strong passion for social justice
- Have time and energy to spend approximately 40 hours per calendar year after the training to support civil rights initiatives
- Responsible and committed, with persistence in everything you do
- Strong oral and written communication skills
- Please Note: Applicants for the Sikh Advocate Academy must live in the United States. We are sorry that we can not accommodate applicants outside of the United States at this time.

What Happens after the Training?

Graduates of the Academy will be certified as members of the Sikh Coalition Advocacy Corps and receive business cards and a Sikh Coalition email address. In order to maintain their certification, members of the Advocacy Corps must undertake a minimum number of advocacy actions per year, as determined by the Sikh Coalition, in support of the Sikh Coalition's mission and in collaboration with full-time staff from the Sikh Coalition. Examples might include organizing visits to local Congressional offices; pitching positive stories to local media outlets; and building alliances with organizations that promote human rights.

For further information about the Sikh Advocate Academy, and to apply, go
here
.