But who will play Kwai Chang Caine?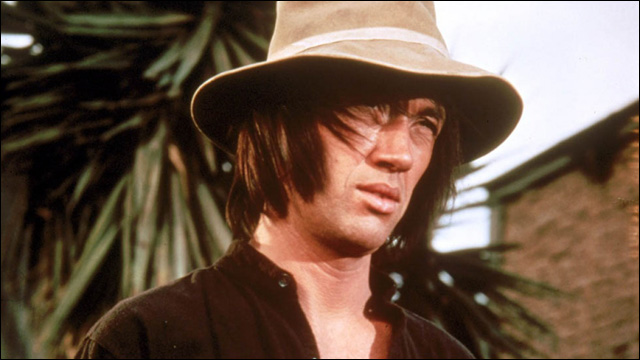 Dude. No. Australian filmmaker Baz Luhrmann, the guy behind
The Great Gatsby
and
Moulin Rouge
, is reportedly in talks to direct a big screen adaptation of the 1970s martial arts western television show
Kung Fu
.
Baz Luhrmann in Talks to Direct 'Kung Fu' for Legendary
The hit show, which aired on ABC from 1972 to 1975, followed the adventures of Kwai Chang Chaine, a biracial Shaolin monk who roamed the American west in search of his half brother, righting wrongs along the way.
For many,
Kung Fu
will likely be remembered as the show originally conceived as a star vehicle for Bruce Lee, only to see him replaced for a more audience-friendly Caucasian lead actor. How freaking cool would it have been to see Bruce in that role? Alas, all this show gave us was the bitter legacy of yellowface.
This movie script has apparently moved the story to China, with Caine in search of his father.
The Australian filmmaker behind The Great Gatsby is in talks to direct Kung Fu, Legendary Pictures' big-screen adaptation of the 1970s martial arts Western television show. It is unclear how far along the talks are. Legendary had no comment, but the company is beginning to ramp up its Chinese-centric projects again (Yimou Zhang is in talks to revive the company's adventure movie The Great Wall) and Kung Fu has Chinese roots.

If a deal is made, Luhrmann would first do a rewrite on the script before proceeding. (The current script is by Black Swan scribe John McLaughlin.)

According to sources, the current script switches the action to China and finds Caine in search of his father -- at one point ending up in a prison where he must fight to survive.

Is Luhrmann a good fit to direct this movie? I honestly don't care. This movie has been in the works for years, and I have little interest in it. Taking it out of the west makes it that much less interesting.
The main question for me: who will play Caine? Would they try to find someone of actual Asian descent to fill the role? David Carradine really did a number on us. At this point, as twisted as it might sound, it's hard to imagine the part played by anyone other than a white dude in yellowface. It's iconic for all the wrong reasons.
More here:
Baz Luhrmann in Talks to Direct Film Adaptation of 'Kung Fu'