Legendary martial artist to appear as fighter in UFC game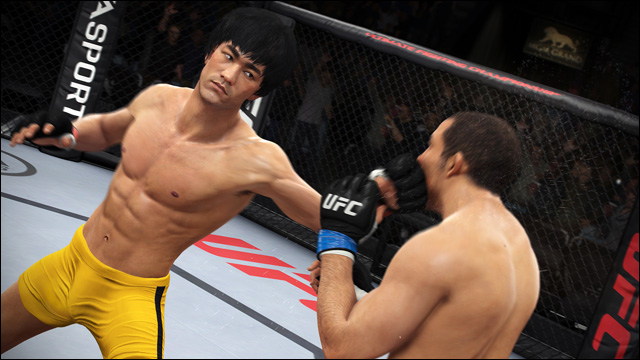 His movie career may have been cut short, but Bruce Lee's global legacy has been immeasurable. And soon, gamers will be able to battle Bruce in the Octagon. EA Sports will pay homage to the legendary martial artist by bringing him to life as a mystery fighter in an upcoming UFC video game.
Bruce Lee is EA Sports UFC's mystery fighter
Last week, EA Sports
announced
that Bruce Lee, who is often called the original mixed martial artist, will appear in
EA Sports UFC
. Players will be able to unlock Bruce Lee in flyweight, bantam weight, featherweight and lightweight divisions by finishing the game's career mode on pro difficulty or higher.
Here's the
trailer
where you can get a brief glimpse of Bruce in the game:
Here's some more info on how the collaboration came together with Bruce Lee Enterprises:
To ask why Bruce Lee is in a UFC game is "the most ridiculous question," according to creative director Brian Hayes, because the UFC is fastest growing sport in the world and Bruce Lee's philosophies "laid the groundwork for modern mixed martial arts."

"I can't conceive of a universe where bringing these two things together doesn't make sense," he was quoted on the EA Sports blog. "I know there are going to be countless fans that feel the exact same way and they will be eager play with such a legend in the UFC Octagon. I am one of them."

The development team worked with Bruce Lee Enterprises to introduce Lee into the game. Bruce Lee Enterprises provided them with a library of digital references, a life-cast of his body to create a 3D reference as well as behind-the-scenes and candid shots that helped "identify the specific era we wanted to capture as well as the iconic elements of his face and body."

"When we first heard that there was a possibility of adding Bruce Lee to the roster for EA Sports UFC everyone was excited at the prospect and more than a little nervous," art director Ian Lloyd wrote. "Nobody wants to tackle a legendary icon like this and mess it up.

For anyone who's ever wondered how Bruce would stack up in the ring against modern day fighters, this is probably going to be the closest imagining you're going to get. You can pre-order the game now from select retailers to get day-one access to Bruce Lee.
EA Sports UFC
will launch on June 17.
More here:
EA SPORTS UFC - Why Bruce?