Surveillance video captures burglar hovering over sleeping toddler's crib in the middle of the night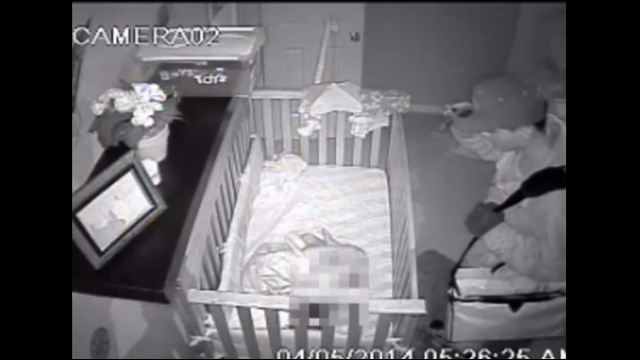 Here's a creepy story that will have you double-checking your locks at night... In Katy, Texas, a family's security cameras caught a burglar breaking in and creeping through their house undetected -- stopping to hang out in the bedroom of a toddler -- while everyone was sound asleep.
Intruder creeps through toddler's room, hovers over crib
The teenage burglar, who slipped through an unlocked first-story window, is seen in surveillance footage sneaking through the house, going room to room, and spending five minutes walking in and out of the bedroom of the family's 2-year-old boy. Thinh Le and the rest of the family slept through the whole thing.
Here's the surveillance
video
:
At one point, the intruder hovers over the boy's crib and points a flashlight toward the sleeping child.

"I was infuriated when I saw him walking back and forth in my baby's room. My stomach was turning," explained father Thinh Le. "He's my world. I love him."

Thinh Le and the child's mother were in their bedroom on the first floor. They slept through everything.

The parents are still baffled as to why the criminal was drawn to the child's room upstairs.

"My boy thought it was me so he went back to sleep. If he made noise or cried and I went upstairs, something else could happen," said Le.

The creepy intruder guy eventually left and burglarized a neighbor's home, which he also entered through an unlocked window. LOCK YOUR WINDOWS, PEOPLE.
The suspect is described as a male, 16 to 18 years old. He was wearing a New Era baseball cap with a San Antonio Spurs logo on the brim. He also has a tattoo behind his right ear, possibly of Asian characters. If you recognize him or have any information, you can call Crime Stoppers at (713) 222-TIPS.
More here:
Video captures suspect watching sleeping toddler during west Harris County burglary