Saturday, April 12 at the Oakland Asian Cultural Center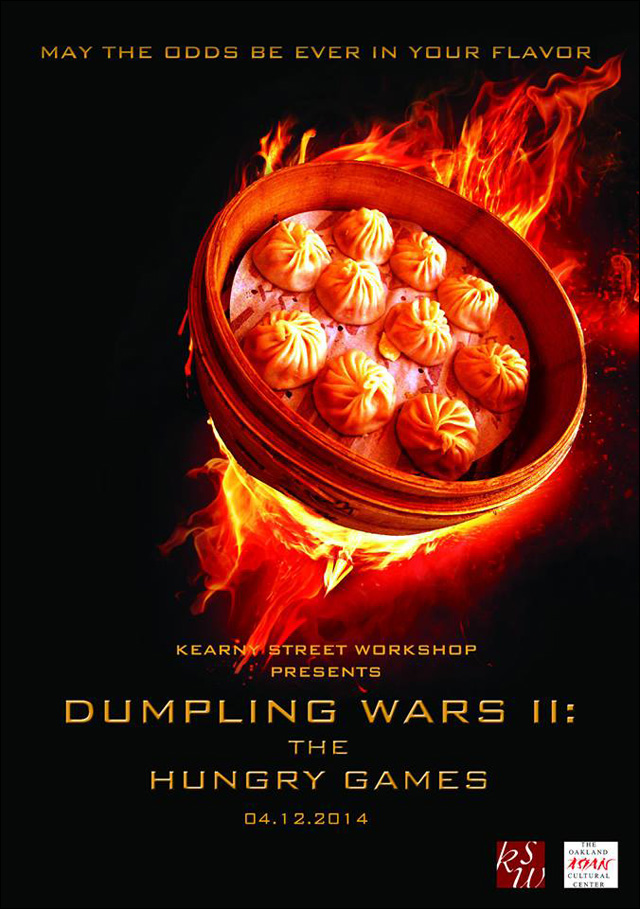 Another one for my folks in the Bay Area... Kearny Street Workshop, the oldest multidisciplinary arts non-profit addressing Asian Pacific American issues, is hosting its second annual "Dumpling Wars" competition, bringing a night of fun, flavor and culture to Oakland. It's happening this Saturday, April 12 at the Oakland Asian Cultural Center. Here's a funny teaser
video
for the event:
And here are some more details about the evening:
Dumpling Wars 2: The Hungry Games

Saturday April 12, 2014
6:00 - 9:00 PM

Oakland Asian Cultural Center
388 9th St.
Oakland, CA 94607

MAY THE ODDS BE EVER IN YOUR FLAVOR!

Kearny Street Workshop's Dumpling Wars returns for Round 2 in the mêlée for culinary supremacy! Battling amateur chefs will scramble to serve up their best recipes to a panel of local foodie judges. Attendees will have the opportunity to sample delicious food in an all-you-can-eat buffet, enjoy musical selections by DJ Slum B (ISA Collective), and vote on their favorite dumpling!

Sweet or savory? Traditional or fusion? There can only be one winner in this pageant of honor, courage, and umami!

Co-sponsored by Oakland Asian Cultural Center and Safeway.

The "Tributes"
* Carb Fairy Dessert Co. (2012 Winner)
* Dumpling Darlings
* Mac-niss Everdeen
* San Francisco State Dumpling Masters
* TBdub-ling
* Team Better Pork Tomorrow
* We Grew Up In San Francisco Chinatown (2012 Audience Choice)

The "Gamemakers"
* Tamiko Wong, Honorary Chair (Director, Oakland Asian Cultural Center)
* Penny Baldado, Judge (Chef/Owner, Café Gabriela)
* Sita Kuratomi Bhaumik, Judge (Food-Based Artist/Community Cook)
* David Yeung, Judge (Chef/Owner, HRD Coffee Shop)
* Saqib Keval, Host (Founder, People's Kitchen)

The "Sponsors"
* Ananda Fuara
* Astig Vegan
* Brother Seafood Restaurant
* Burmese Kitchen
* Cafe Gabriela
* Deliboard
* Fire Dragon Love Sauce
* Himalayan Flavors
* Inay Filipino Kitchen
* Kainbigan
* Little Nepal
* Social Kitchen & Brewery

Community Partners
* Asian American Women Artists Association
* Asian Culinary Forum
* AsianWeek Foundation
* Bindlestiff Studio
* Center for Asian American Media
* East Bay Asian Local Development Corporation
* Hyphen Magazine
* The People's Kitchen
* Project by Project - San Francisco

To purchase tickets, go
here
. For further information, check out the
Facebook event
.