Trailblazing saxophonist passes after a years-long battle with cancer.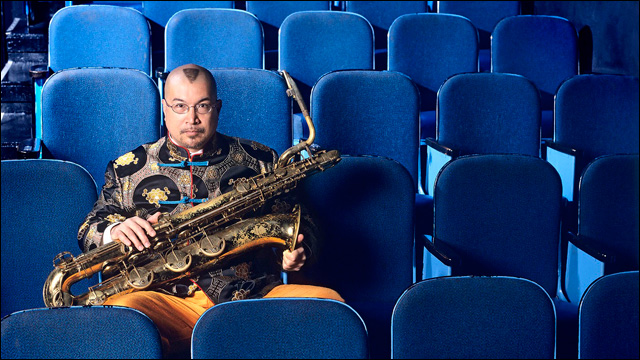 Composer, saxophonist, writer and radical activist Fred Ho, best known for his avant-garde music, outspoken political views and iconoclastic style, died on Saturday at his home in Brooklyn. He was 56.
Fred Ho, Creative Activist and Musician, Dies at 56
Ho died after a lengthy battle with colorectal cancer, which he had been publicly "at war" with since 2006. He was an accomplished jazz musician with a dozen operas and several albums to his name, and is credited with helping to pioneer an Asian American music genre. He was also a published author, lecturer and activist.
Mr. Ho moved to New York in the early '80s to pursue a career as a musician. He formed the Afro Asian Music Ensemble and became associated with other Asian-American musicians working on a newly emergent hybrid conception of jazz, including the pianist Jon Jang and the saxophonist Francis Wong. His first records, "Tomorrow Is Now!" and "We Refuse to Be Used and Abused," were released by the Italian jazz label Soul Note.

In 1989, Mr. Ho had his first work performed at the Brooklyn Academy of Music, the bilingual opera "A Chinaman's Chance." He then created two ballet operas based on the Chinese novel "Monkey," by Wu Ch'eng-en, "Journey to the West" (1990) and "Journey Beyond the West: The New Adventures of Monkey" (1997). Both used Mandarin in their librettos, and both reimagined Monkey, a trickster figure, as a political agitator, upsetting the power structures of the gods. Mr. Ho called them "living comic books."

Other ambitious works, many of which were recorded, were on the subjects of Chinese folklore, physical combat, domestic abuse, the black power movement and revolutionary feminism — and sometimes all of those subjects together, as in the opera "Warrior Sisters: The New Adventures of African and Asian Womyn Warriors" (1991), written with the librettist Ann T. Greene.

Even in his final years, Fred Ho was a fighter. Here's an illuminating NPR story on him that aired just a couple of months ago:
Iconoclastic Musician Takes Measure Of His Life: 'I Became A Fighter'