Judge Lo takes his spot on the Merced County Superior Court bench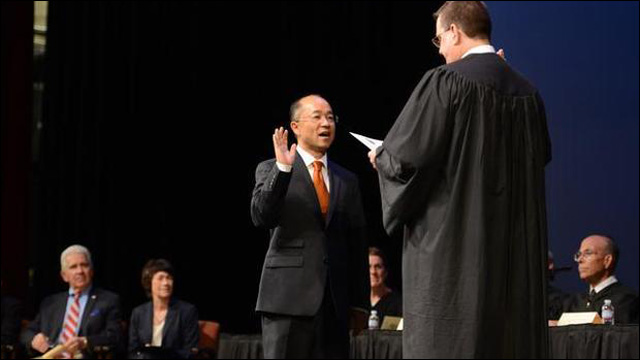 Last week in California, the Merced County Superior Court swore in its newest judge to the bench and made history. Paul Lo is the first person of Hmong descent to become a judge in the United States.
Merced County's Paul Lo becomes first Hmong judge in U.S.
Gov. Jerry Brown appointed Lo, a veteran attorney, to the Superior Court bench in late December.
On Friday, in front of packed audience of family, friends and community members at The Merced Theatre, Lo took the oath of office, put on his official judge's robe, and shared the emotional story of his family and the people who paved the path for him to become the first Hmong American judge:
Lo spoke no English when he came to the United States from Laos at the age of 11, but eventually mastered the language, working hard through high school, college and law school. He lauded the opportunities that this country provided, saying he would have had few of them as the child of poor farmers in a remote Hmong village.

He held back tears as he described the harrowing journey people of his parents' generation made to reach the United States. Many Hmong people braved thousands of miles of jungle, raging waters and refugee camps after fighting on the side of the U.S. during the Vietnam War.

Presiding Judge Brian McCabe gave Lo the oath of office. The two men have known each other since 1994 and have worked as associates and partners at a law firm. McCabe described Lo as intelligent, hard-working, efficient and effective.

Congratulations, Judge Lo.
More here:
Merced County swears in nation's first Hmong judge