Friday, May 2 at the Japanese American National Museum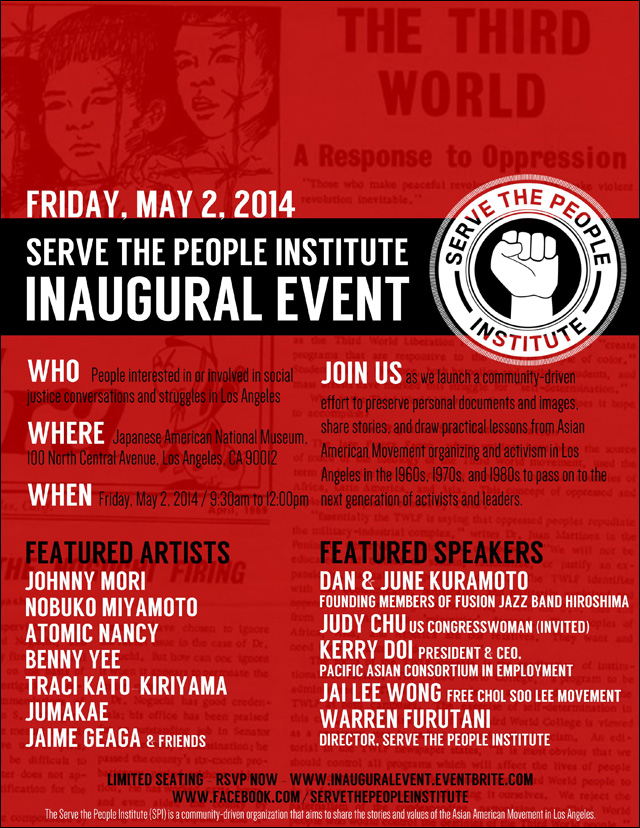 The
Serve the People Institute
is a community-driven organization that is working to document the organizing and activism of the Asian American Movement in L.A. from the 1960s through the 80s. If you're in Los Angeles, the Japanese American National Museum is hosting SPI's
inaugural event
happening Friday, May 2. There will be performances and speakers, including Nobuko Miyamoto, Atomic Nancy, and many more:
Serve the People Institute (SPI) Inaugural Event

We invite you to join the Serve the People Institute (SPI) at the Japanese American National Museum as we launch a community-driven effort to preserve personal documents and images, share stories, and draw practical lessons from the organizing and activism of the Asian American Movement in Los Angeles in the 1960s, 1970s, and 1980s to pass on to the next generation of activists and leaders!

Featuring performances by Johnny Mori, Nobuko Miyamoto, Atomic Nancy, & Benny Yee, Traci Kato-Kiriyama, Jumakae, and Jaime Geaga & friends!

Featured speakers include Dan Kuramoto and June Kuramoto, founding members of the fusion jazz band, Hiroshima; U.S. Congresswoman Judy Chu (invited); Kerry Doi, President & CEO of Pacific Asian Consortium in Employment; Jai Lee Wong, an activist involved in the Free Chol Soo Lee Movement; and Warren Furutani, Director of the Serve the People Institute.

FREE & OPEN TO THE PUBLIC

Where:
Japanese American National Museum
100 North Central Avenue
Los Angeles, CA 90012

When:
Friday, May 2, 2014 at 9:30am

Please reserve your free tickets now at this link: http://www.inauguralevent.eventbrite.com/

For more information, please email servethepeople.intern@gmail.com. For more information about SPI, please visit our Facebook page at http://www.facebook.com/servethepeopleinstitute.

The event is free and open to the public.
Click here
to RSVP.