Star-studded screening on Saturday, May 3 at the Los Angeles Asian Pacific Film Festival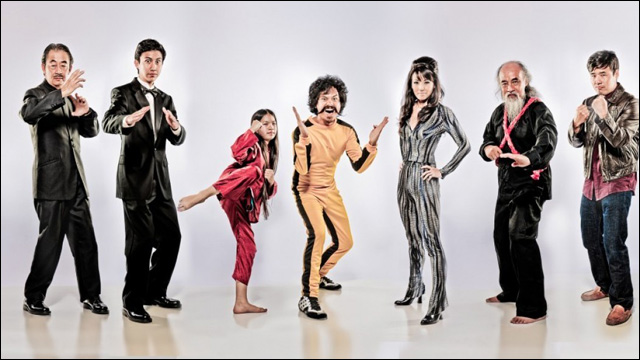 All right. This is for all my people in Southern California. The
Los Angeles Asian Pacific Film Festival
is proud to present the Hollywood premiere of
Awesome Asian Bad Guys
, the new action/comedy web series from National Film Society. I have the pleasure of being an executive producer on this project, and I'm excited to share the fun with friends, film fans and the festival community.
Filmmaking duo Stephen Dypiangco and Patrick Epino direct and star as Stephen and Patrick, down-and-out filmmakers who must recruit an unlikely team of Asian American heroes -- a motley crew that includes Al Leong, Yuji Okumoto, Tamlyn Tomita, George Cheung and Randall Park -- to take down a ruthless crime lord. The series is an homage to your favorite nameless Asian movie character actors of the 1980s and 90s.
Here's the
teaser trailer
again:
We're doing a big ol'
screening event
on Saturday, May 3 at 9:45pm at the Directors Guild of America in West Hollywood. We'll have the cast and crew in attendance, as well as prizes for select audience members.
Here's some more information about the screening:
AWESOME ASIAN BAD GUYS

Saturday, May 3
at 9:45pm

Director's Guild of America
7920 W Sunset Blvd
Los Angeles, California 90046

Join Patrick, Stephen and the Awesome Asian Bad Guys cast and crew for their hometown premiere at The Los Angeles Asian Pacific Film Festival!

This is a great chance to watch AABG on a huge, awesome screen alongside the talented team that put it all together.

SYNOPSIS: Awesome Asian Bad Guys is an action/comedy that follows two filmmakers who assemble a motley crew of Asian bad guy actors to take down LA's most nefarious mobster!

If you backed the project on Kickstarter, be sure to wear your AABG t-shirts and hoodies, so we can shout you out!

If you want to buy your AABG t-shirt in advance, drop by
http://AwesomeAsianBadGuys.com/

There will also be a repeat screening on Friday, May 9 at the Tateuchi Democracy Forum in Little Tokyo. For further information about about the screenings, and to purchase tickets -- get yours before they sell out! -- go to the LAAPFF
website
. For more on Awesome Asian Bad Guys, go
here
. See you in Hollywood!