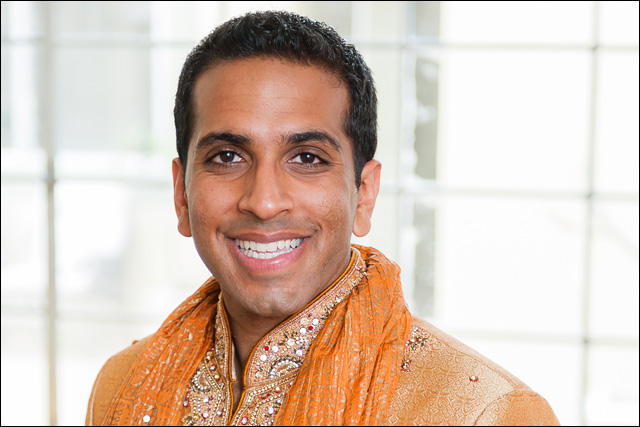 Hey, everybody! It's that time again. I am pleased to introduce the latest
Angry Reader of the Week
, spotlighting you, the very special readers of this website. Over the years, I've been able to connect with a lot of cool folks, and this is a way of showing some appreciation and attention to the people who help make this blog what it is. This week's Angry Reader is Puneet V. Kakkar.
Who are you?
Puneet V. Kakkar (pronounced "Pu-neath Vee Kuh-kerr"). I don't have a middle name, just a middle initial.
What are you?
I am an attorney, community mobilizer, foodie, Golden Bear, bhangra dancer, and Nespresso addict.
Where are you?
I live in Cerritos, California, where I grew up; I work in downtown Los Angeles.
Where are you from?
I was born in Wichita, Kansas, and my parents are from the Punjab region in South Asia—they were born in colonial India before it was partitioned in 1947. I moved to Cerritos at the age of 2. My cell phone number, which begins with a 510, would lead you to think I'm from the Bay—but in reality that is because I cannot let go of my last attachment to UC Berkeley (Go Bears!), where I went to school.
What do you do?
I work at
Caldwell Leslie & Proctor
, a great group of lawyers, and litigate cases in all areas—from general corporate issues to entertainment to white-collar criminal matters. I've been able to work on exciting cases, from representing Obey Clothing defending a copyright claim involving Shepard Fairey's campaign poster of Barack Obama to pursuing claims on behalf of a group of investors against a broker-dealer for employing a fraudster who orchestrated a Ponzi scheme. As part of my practice, I have also served the Asian Pacific American community pro bono, participating in "know your rights" seminars, staffing legal clinics, representing victims of domestic violence, prosecuting wage theft in immigrant communities, and assisting groups such as
Asian Americans Advancing Justice – Los Angeles
. Outside of work, I am involved with community groups such as the
South Asian Network
and coach the mock trial team at my high school alma mater, Whitney High.
What are you all about?
Passion. Hard work. Service to others. And my wonderful wife, Vidhya.
What makes you angry?
I'm generally a happy guy, but three things have really irked me lately:
First, when Trader Joe's discontinues food items that really make my life easy. Exhibit A: Last week, Trader Joe's discontinued pre-chopped onions, which are crucial for almost every dish I make. Now I have to endure tears to make my
daal
(lentils).
Second, when people use the law improperly and unfairly to the detriment of others—particularly the most vulnerable. If you want to fight, fight fair.
Third, when the electorate is misinformed. This happens almost every election cycle, and is now affecting our state's judges of Asian Pacific American descent. By way of background, in California, judges are appointed and elected; those who are appointed must be re-elected usually every six years. In 2012, the first South Asian judge in California, Sanjay Kumar, who had been a judge for several years, was challenged by an attorney by the name of Kim Smith, who had no judicial experience. Judge Kumar was rated "exceptionally well qualified" by the attorney committee charged with evaluating judicial candidates; Smith was rated "not qualified." The legal community decried this election as racially-motivated, as the electorate was given the choice of "Smith" against "Kumar" on the ballot—without knowing much about who they actually were. Scarily enough, 40% of the electorate voted for Smith. Unfortunately, this was not the first time this happened, so I see this as a call to action. We should be proud of our last names, and as such challenges will likely continue, we want to support our excellent judges of Asian Pacific American descent on the bench and encourage more to join them. It begins with awareness. I've created a political action committee in California to tackle these challenges. To learn more,
see this interview
.