Robed crew of breakers bust a move in honor of late Beastie Boy Adam Yauch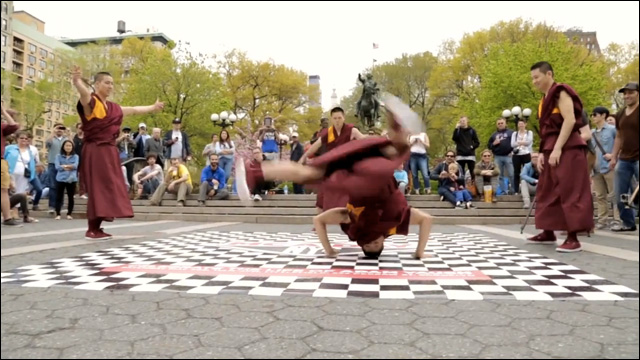 New York City. Saturday afternoon. If you were hanging out in Union Square, you might have caught some highly nimble Tibetan monks getting down in homage to the late Adam Yauch, aka MCA of the Beastie Boys.
Video: "Monks" Breakdance In Union Square In Honor Of MCA Day
Or more likely, they were just dudes dressed in the garb of Tibetan monks -- but dudes with moves! This robed crew of breakers were kickin' it root down to celebrate the third annual MCA Day in New York, celebrating the life of the late great Beastie Boy, who lost a three-year battle with cancer on May 4, 2012 at the age of 47.
As you'll see, robes aren't the most conducive clothes for breaking. But they do all right:
Yauch was a practicing Buddhist since 1994. He started the Milarepta Fund, through which he hosted multiple Tibetan Freedom concerts in support of Tibetan independence, and spread a message of nonviolence.
RIP, MCA.
More here:
'Buddhist Monks' Breakdance In Honor Of MCA Day, Remembering The Life Of Beastie Boy Adam Yauch
.
UPDATE: Props to the b-boys, identified as Erich "richstylez" Reyes, Jason "Chem" Ng, Franklin "Jin" Chen and bboy Stephen.