That's $122.50 per stick.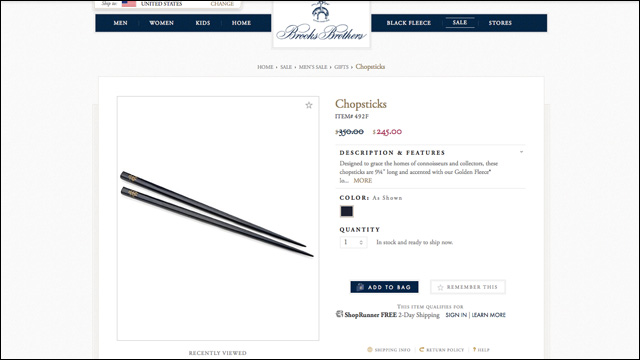 File under big, crap-tastic ways to waste your money... Someone sent this my way and I initially laughed it off. But after I clicked the link, it kept coming up in my Facebook feed, and it started bugging the hell out of me.
Are you looking to throw away a chunk of cash? Short of setting it on fire? Then you should be aware that Brooks Brothers is currently selling a set of fancy-ass
chopsticks
for $245. Two hundred and forty-five dollars! And that's down from the original price of $350. For two chopsticks -- that's $122.50 per stick.
Designed to grace the homes of connoisseurs, collectors and dumbasses, these chopsticks are 9½" long and accented with Brooks Brothers' Golden Fleece® logo for an elegant finishing touch. For those who want to eat their noodles like an asshole. You can also get a matching
chopstick holder
for $105.
As far as I can tell, the chopsticks don't possess any magical properties. Good readers, as someone who cares about you, if I find out that you bought a pair of $245 chopsticks, I will slap you upside the head on principle.