7-year-old multiracial leukemia patient needs a bone marrow match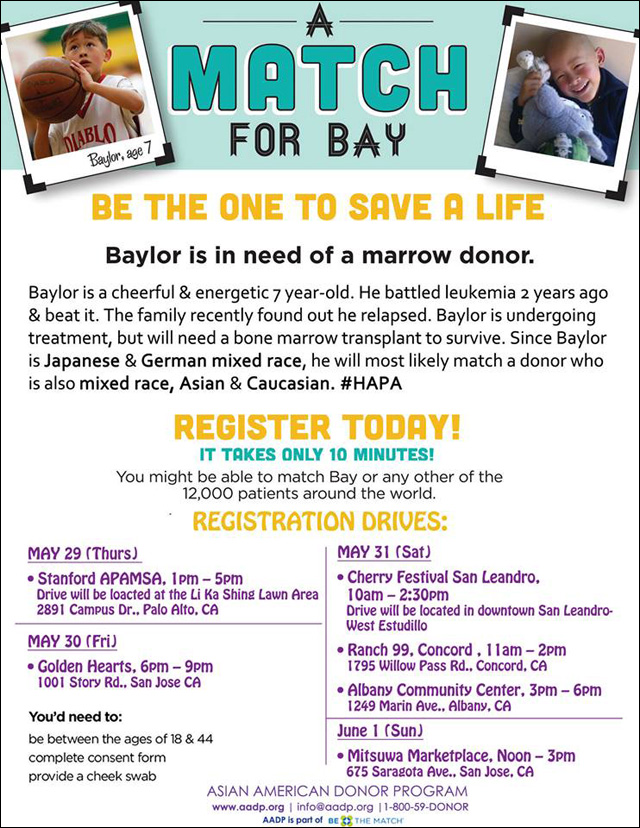 Passing along this news of a kid that could use your help... Two years ago, 7-year-old
Baylor
battled leukemia and beat it. Unfortunately, his family recently found out that he relapsed, and he needs your help.
Baylor is undergoing treatment but will need bone marrow transplant to survive. Since he is multiracial -- Asian and Caucasian -- his marrow match will likely come from a donor who is also multiracial.
There are bone marrow donor
registration drives
happening this week in the Bay Area -- it only takes ten minutes! Refer to the flyer above. You can also request a
home kit
, which is crazy easy to do.
Could you be the donor who saves Baylor's life? Even if you're not his match, you could be the lifeline someone else needs. For further updates, visit the
A Match for Bay
Facebook page. For more information about registering to be a marrow donor, visit the website of the
Asian American Donor Program
.