Featuring the work of Yoskay Yamamoto, May 17 - June 4 at GR2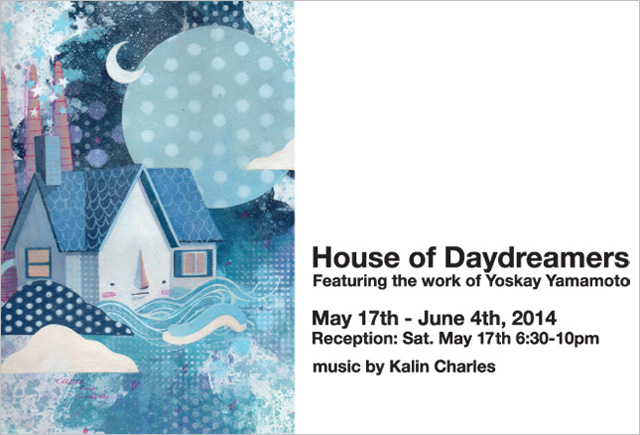 This is for all you art enthusiasts in Los Angeles... Giant Robot invites you to its latest art show,
House of Dreamers
, a solo exhibition featuring the whimsical, enchanting works of Yoskay Yamamoto. It runs May 17 through June 4 at Giant Robot 2, kicked off with an opening reception this Saturday.
Here are some more details about the exhibition:
HOUSE OF DAYDREAMERS
Featuring the work of Yoskay Yamamoto

Giant Robot is proud to present an exhibition by Yoskay Yamamoto – House of Daydreamers

Yoskay Yamamoto is a treasure in Los Angeles. As thoughtful and charming as his presence at various exhibitions, he's also a developed creator. His painted imagery is unmistakable and his 3d work which is often hard carved is whimsical and precious. Yamamoto will be creating numerous flower sculptures along with paintings, and as usual, will create an enchanting installation.

Yoskay Yamamoto was born in Japan, attended school in Santa Barbara, and is a self taught artist living in Los Angeles. Join him and many of his friends at his exhibition reception. Music will be provided by Kalin Charles.

May 17 – June 4, 2014
Reception: Saturday, May 17, 6:30-10 PM

GiantRobot
2062 Sawtelle Blvd
Los Angeles, California 90025

For further information, visit the Giant Robot
website
and the
Facebook event
.