Company policy bars attendees from wearing religious head coverings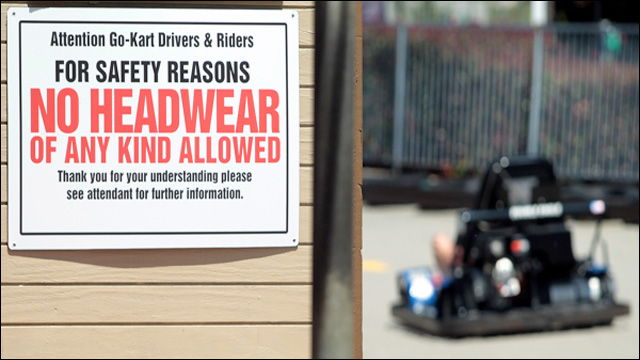 In California, five families of Sikh and Muslim faith claim they were discriminated against at a popular amusement park when they were barred from riding go-karts because of their religious head attire.
Livermore: Sikh families claim discrimination at Boomers go-kart track
The families have filed multiple public accommodation complaints with the California Department of Fair Employment and Housing against the Boomers! amusement park chain. The complaints, filed by United Sikhs and CAIR-CA, allege violations of California's Unruh Civil Rights Act based on Boomers! unwillingness to permit park attendees wearing religious head coverings from riding Go-Karts.
Both Muslim and Sikh park attendees have repeatedly been denied access to the rides.
The complaint filed Tuesday by Sunnyvale resident Nasir Abdo, on behalf of his daughter, Noorah Abdo, alleges violations based on the park's unwillingness to allow attendees wearing religious head coverings to ride go-karts.

The one-page complaint alleges Abdo bought tickets to the ride on Aug. 8 and waited in line for several minutes with his son and two daughters -- one of whom wore a headscarf. When it was their turn to ride, an employee told Abdo that his daughter was not allowed to ride the go-karts because any head gear was not permitted on the ride.

When Abdo asked to speak to a manager, the manager told him, "I am sorry, but for safety reasons, this is our company policy," the complaint reads.

The Boomers policy does now allow any headwear or neckwear on go-karts, including "hats, caps, visors, ear muffs, head phones, bandanas, scarves, ribbons, bows, neckties, turbans, yarmulkes, hijabs, doo-wraps, wigs or head wraps of any kind." The company claims the restriction is a safety issue.
Advocates for the Sikh and Muslim families says Boomers' policy is "discriminatory and inconsistent," targeting religious headwear like the Sikh turban "without reason or necessity."
More here:
Sikh, Muslim Groups File Discrimination Complaints Against Amusement Park! Amusement park bars visitors from rides over religious head coverings