Starring Lynn Chen, Michelle Krusiec and Sheetal Sheth as the best book club ever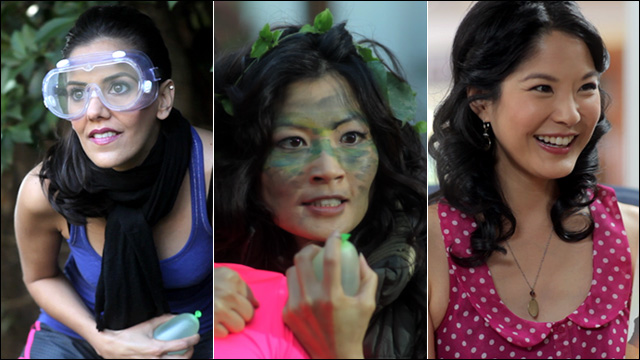 Apologies to my homegirls in the
Nice Girls Crew
.
The second season of the comedy webseries, created/written by Christine Kwon, directed/written by Tanuj Chopra and starring Lynn Chen, Michelle Krusiec and Sheetal Sheth as three best frenemies in the best book club ever, dropped last week. I was actually on vacation, and wasn't able to give it proper blog love. So here it is.
In season two, available for viewing in its entirety on
YouTube
, the book club moves their shenanigans to Sophie's house where we meet Geraldine's mom (the legendary Tsai Chin) and Leena's hot new love interest. There are motivational speeches, literary re-enactments and deadly games of survival.
Watch it now:
Episode 1: Sisterhood of the Traveling Fat Pants
In the new season of Nice Girls Crew, the book club is moved to Sophie's house, where we meet her hunky personal assistant, Donatello. Leena takes an immediate liking to the help, providing a whole new meaning to the term "manservant."
Episode 2: The Reluctant Mixologist

Much to her chagrin, Leena agrees to attend Geraldine's "professionals mixer" slash "book signing." While Geraldine works toward becoming the next Tony Robbins, Leena fends off unwanted suitors, and Sophie is swept up by a nerdy Youtube star.


Episode 3: Game Day

It's Game Day y'all! The girls convene for their annual ritual of competition, moderated by Geraldine's sophisticated mother, Lady Lee.


Episode 4: The Talented Geraldiney

In her quest to spread wisdom to the world, Geraldine gives the ladies an inspirational talk for the ages.


Episode 5: Special Magic Herbs

What happens when you do a live action adaptation of James and the Giant Peach? Some really funked up stuff, in this Season 2 finale of Nice Girls Crew.


For further information about the series, visit the Nice Girls Crew website.