Don Miyada was sent to an interment camp one month before his high school graduation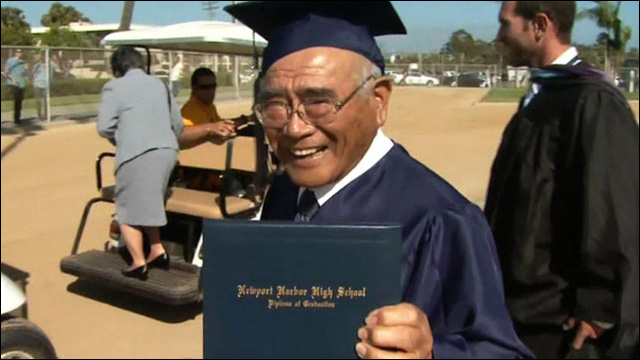 It took over 70 years, but Don Miyada finally got to graduate from high school.
In 1942, at age 17, he was pulled out of class at Newport Harbor High School and sent to an internment camp in Arizona, along with his family and thousands of other Japanese Americans, just a month shy of graduation. A teacher later mailed him his diploma. But you know, it's never too late to party like a senior.
Former student interned in World War II gets high school honors
This month, Miyada was invited to participate in the rite of passage he was unjustly denied 72 years ago. The 89-year-old retired university professor donned a cap and gown alongside 560 high school seniors and accepted his diploma with Newport Harbor High's class of 2014.
Miyada went on to serve in the U.S. Army, earned a doctorate in chemistry and became a professor at UC Irvine. Earlier this year at a Memorial Day service, he met Newport Harbor's principal, who invited him to walk with this year's graduates.
In May, Miyada met Newport Harbor's principal, Sean Boulton, during a Memorial Day service at the high school and Boulton invited him to walk with the 560 seniors who would be graduating.

Boulton even found a copy of the program from what would have been Miyada's graduation day in 1942.

"My name was on there," Miyada said. "I wasn't able to attend, of course, but my name was there anyway. It was very emotional."

More here:
Graduation For 89-Year-Old Heals World War II Internment Wounds