Shooter killed 19-year-old Paul Lee before getting tackled by another student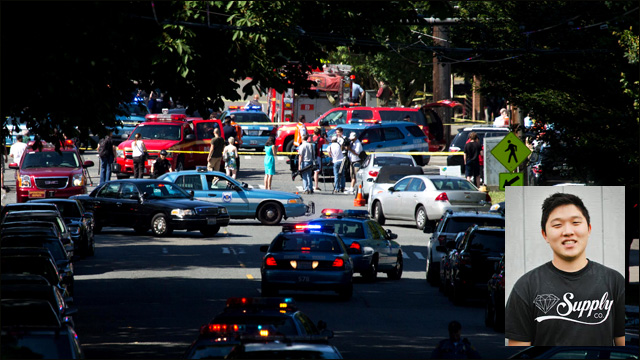 Damn. By now, you've heard of the shooting rampage that occurred at Seattle Pacific University. On Thursday afternoon, a gunman opened fire inside a campus hall, killing one student and injuring two others, one critically.
Student killed in Seattle Pacific shooting identified
The student killed in the shooting has been identified as 19-year-old
Paul Lee
, a freshman from the Portland area. He was pronounced dead at the hospital. The two injured victims remain hospitalized in stable condition.
The suspected shooter, identified as 26-year-old Aaron Ybarra, was ultimately tackled and subdued by a student.
Jon Meis
, who was working as a building monitor, pepper-sprayed Ybarra when he paused to reload his shotgun, then put him in a chokehold and took him to the ground. Other students and faculty members were able to hold the shooter down until police arrived.
The gunman -- wearing a black, hooded sweatshirt, skater sneakers and jeans, witnesses said -- walked into the foyer of Otto Miller Hall shortly before 3:30 p.m. and shot three people, said Seattle police Capt. Chris Fowler.

When Meis saw the shooter reloading, he saw an opportunity to stop the attack, said Ryan Salgado, Meis' roommate for the past four years. Salgado said his friend seemed to be in shock after the shooting.

Shotgun shells littered the floor of the foyer, which was sealed off with police tape.

One of the victims, 19-year-old Paul Lee of Portland, was taken in critical condition to Harborview Medical Center, where he was pronounced dead.

According to police, Ybarra was armed with a shotgun, a knife and additional ammunition. He apparently planned to kill as many people as possible, then possibly kill himself. No motive has been released by authorities yet, and police said they haven't found any connection yet between Ybarra, the university or any of the victims, but he reportedly has a long history of mental health problems.
More here:
1 dead, others hurt in shooting at Seattle Pacific University before student tackles gunman
More on Paul Lee:
Westview High School graduate Paul Lee killed in Seattle Pacific University shooting
If you're like me, perhaps you're starting to hate yourself for becoming numb to news of mass shootings when they pop up in your news feed. Because at this rate, it's happening every other week. Shit needs to stop.