"Having a connection with another person is a precious thing. It's my favorite thing."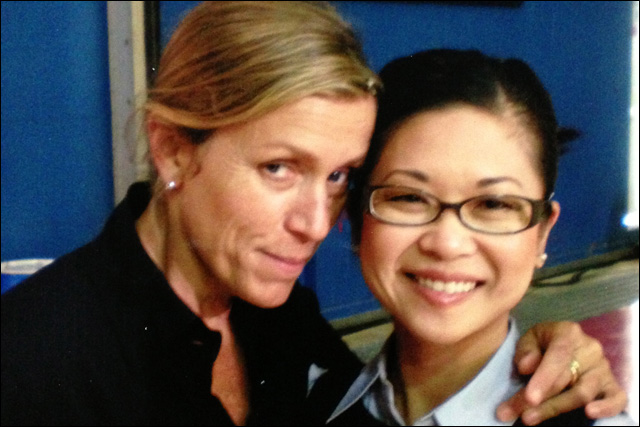 Heeyyyyyy everybody! Once again, it's my pleasure to introduce you to the
Angry Reader of the Week
, spotlighting you, the very special readers of this website. Over the years, I've been able to connect with a lot of cool folks, and this is a way of showing some appreciation and attention to the people who help make this blog what it is. This week's Angry Reader is Keiko Agena.
Who are you?
Christine Keiko Agena
@KeikoAgena
Keiko on Facebook
What are you?
Loving Wife/Actress/Improvisor/Super Fan of
Monk
the Televison Series/Decent Friend
Where are you?
On my couch watching Poker (2011 Main Event)
la, ca, usa
Where are you from?
Oahu HI '73-'91 I've been in Los Angeles since then.
What do you do?
Audition. Stress about auditions. Regret my choices. Redeem myself. Book a job. Save my money. Dream about perfection. Take class. Take class. Take class. Improvise. Watch TV. Ignore my cat. Make my husband breakfast. Pack his lunch. Give up coffee. Get back on coffee. Switch to Green Tea. Sometimes I do yoga.
What are you all about?
I am a human trying to transition from solely concentrating on myself to focusing more on what I can do for others. Um... it's a process. ;) That being said... Right now I do a lot of improv. Mostly @ iO in Hollywood. I'm with four different teams at the moment. (Ham Radio/RJP/Hometown/Wild Caught) I am of the opinion that the people that are in this business as long as I have been (I've been a working actress since 2000) must be addicted to it in some way. There is a kind of connection that occurs with those that you perform with that you just don't experience in outside life. I've been fortunate in that I've gotten to perform on some great TV shows. 7 years on
Gilmore Girls
. Guest Star roles on
Scandal
,
Shameless
,
ER
,
House
,
Castle
, etc. Some of my favorite moments though have been in things that no one has seen. Scenes in class or a theater show or a workshop. Having a connection with another person is a precious thing. It's my favorite thing. Perhaps in a perfect world we would support each other, love each other, and listen to what we each has to say all the time... but until then I will keep coming back to this art form to get my fix.
What makes you angry?
When people count out others based solely on their political or religious affiliations.