School board unanimously votes to rename Portola Middle School for Japanese American civil rights hero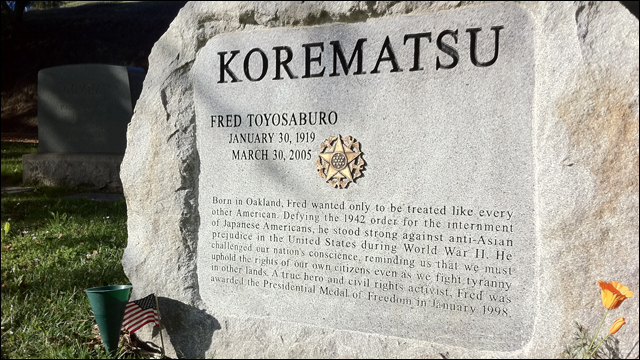 Some cool news out of the Bay Area... Middle school students in El Cerrito, California will soon be attending Fred T. Korematsu Middle School, renamed in honor of the late civil rights leader who hailed from the area and was arrested for his refusal to cooperate with the incarceration of Japanese Americans during World War II.
El Cerrito middle school name change approved
This week, the West Contra Costa Unified School District Board of Education voted unanimously to rename Portola Middle School after the civil rights icon. A committee recommended the name change earlier this month after listening to testimony at four community meetings and two school board meetings.
Korematsu, who was born in Oakland in 1919 and grew up in San Leandro, was arrested for defying the government's wartime incarceration of Japanese Americans. He appealed his case all the way to the Supreme Court, challenging the legality of the internment, but lost. Decades later, in 1983, Korematsu was vindicated when his case was overturned. It was a landmark moment in civil rights history.
The idea to rename the school came from school board President Charles Ramsey, who saw it as an opportunity to teach and talk about Korematsu's important legacy.
Ghidella said the idea to rename the school after Korematsu came from Ramsey, who asked him to bring the matter up before the full board in April.

Ghidella said he embraced the concept of honoring the Japanese American community, many of whom were active in the flower growing industry in El Cerrito and Richmond before and after the internment.

The new name will present an opportunity to teach about a regrettable and underpublicized episode in recent U.S. history, he said.

"Two out of seven El Cerrito residents are Asian," he said. "This is a whole side of U.S. history that I never learned when I was in school."

More here:
El Cerrito: Portola Middle School has been renamed after Fred T. Korematsu
To learn more about Fred Korematsu, and the continued efforts to tell his story for future generations, visit the website of the
Fred T. Korematsu Institute for Civil Rights and Education
.