Seven people -- including three young children -- killed in fatal blaze in Lowell, MA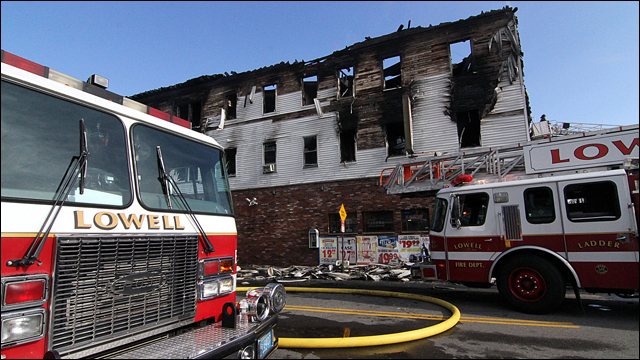 This is a terrible story out of the Boston area... Last week in Lowell, seven people -- including three young children -- were killed in a deadly apartment fire that has devastated the local Cambodian community.
Lowell fire hits heart of Cambodian community
33-year-old Ellen Vuong and her boyfriend Torn Sak, and three of the couple's children, Anthony, 12, Ryan, 9, and Sayuri, 7, perished in the fire early morning Thursday when they became trapped in their third floor apartment. Two of their young children were able to make it out alive. Two unrelated adults, 38-year-old Tina Christakos and an unidentified 70-year-old man, died in an apartment on the other side of the building.
According to the Lowell Fire Department, the three-alarm blaze was an
accidental electrical fire
.
Over the weekend, hundreds of community members gathered for a memorial service and collected donations for the families of the victims:
Hundreds of residents, many of them members of the large, tight-knit Cambodian community, attended. They lined up to remove their shoes before entering the packed temple, where they sat on the floor and chanted solemn prayers before a statue of the Buddha haloed by colorful electric lights.

Addressing the crowd, On Sak, grandfather of the three children who died in the fire, pressed his palms together in prayer.

"You are all blessed," he said in Khmer, as a temple official translated. "Thank you very much."

The event doubled as a fund-raiser for families of the victims, and few came empty-handed. A large group of residents, many with envelopes and fists full of cash in small denominations, crowded volunteers collecting funds.

More here:
Community gathers to remember Lowell fire victims
The
Cambodian Mutual Assistance Association of Lowell
is accepting donations online on behalf of community members affected by the fire. To support them with a donation, visit the
GoFundMe
page.