Meng H. Lim elected Superior Court judge for the Tallapoosa District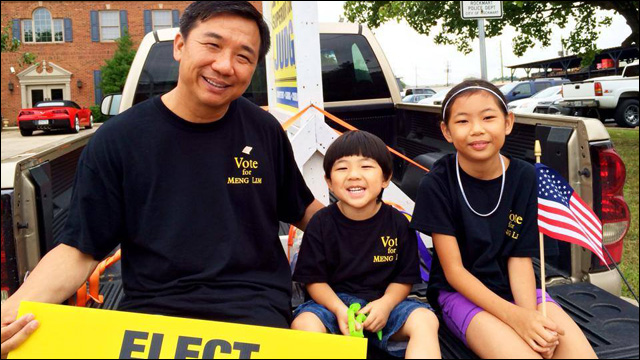 Last week in Georgia, voters in Polk and Haralson County made history, electing Meng H. Lim as Superior Court judge for the Tallapoosa district. The win makes Lim the first Cambodian American -- ethnically Chinese Cambodian, actually -- and the first Asian Pacific American ever elected to a Superior Court judgeship in Georgia.
Polk, Haralson voters choose Lim for Superior Court Judge
Lim was in first place but didn't win a clear majority for the seat in the May 20 election. In last week's runoff, he took a majority of the vote in Polk County -- 1,812 votes to 1,544 for Polk County attorney Chuck Morris. In his home county of Haralson, voters turned out 2,174 to 927 in favor of Lim.
Lim's family immigrated to the United States from Cambodia when he was 9. Here's a little more background on the newly elected judge, according to his campaign's
Facebook page
:
On July 22, 2014, Meng Lim was elected to Superior Court of Tallapoosa Circuit, covering Polk and Haralson Counties. He will fill a seat left vacant by retiring Judge Richard Sutton.

In 1982 at the age of 9, Meng began living in Bremen, GA. His parents worked for Bremen First Baptist Church where he grew up and was baptized. He graduated as valedictorian from Bremen High School in 1991. He then attended Emory University under the Georgia Governor's Scholarship, receiving his B.A. in History in 1995. He enrolled at Mercer University Law School on a full scholarship and graduated with his J.D. in 1998.

After law school, Meng returned to Tallapoosa. He clerked with the Tallapoosa Judicial Circuit Superior Court with Judges Arthur Fudger, Marion Cummings and William "Bill" Foster, III. He opened his own law practice in September 2000 and has practiced within the Superior Court ever since.

If you want to see something truly awesome, check out this
incredible prom photo
of the Georgia's first Cambodian American judge, circa early 1990s. This is a man the people can trust.
More here:
First Cambodian-American Superior Court Judge Elected in Georgia