A documentary film about the origins and impact of Vietnamese in the 8.7 billion dollar nail industry

Here's an interesting documentary film project that could be worthy of your crowdfunded support...
NailedIt: Vietnamese & The Nail Industry
is an exploration Vietnamese American culture and history, specifically looking at the impact of the Vietnamese nail salon industry -- a uniquely American story.
In 1975, a chance encounter between 20 Vietnamese refugee women and actress Tippi Hedren triggered the onset of the ubiquitous Vietnamese nail shop. Whaaaat? This documentary tells the story of incredible growth and impact a small community of people have on today's 8 billion dollar nail trade.
Watch this video with filmmaker Adele Pham for more information about the project:
Why make this film? You know there are a lot of Vietnamese-owned nail salons. They're everywhere. Haven't you ever wondered
why
? How did this industry get started? There is a story, and it's pretty damn fascinating. Here are some more details about NailedIt's goals:
This is an American story that has to be told. #NailedIt preserves and unfurls an indelible history, and gives voice to the Vietnamese women who are stalwarts of the nail salon. Although the wave of Vietnamese refugees coming to the US has slowed to a trickle, many Vietnamese have roots in the trade, and continue to use it to put themselves through school, and support their families in an unpredictable economy.

#NailedIt also explores social/environmental issues that Vietnamese Americans currently face in the nail industry, including racial discrimination by regulators, negative portrayals and stereotypes in mass media, workers rights issues, education and the development of "healthy" nail salons and products, which is met with resistance from customers accustomed to discount pricing, and salon owners who have built their business around providing high volume, low overhead service.

In other words, this is the definitive story of Vietnamese Americans and their impact on American culture and the & nail industry. Join us and make a difference!!

The goal is to raise $15,000 by August 25. Funds will go towards production shooting costs of the remaining segments of the film, following the main characters in five major cities. For further information about the film, and to make a donation (with fabulous perks!), head over to the
NailedIt
Indiegogo campaign
.
If you're in the Bay Area, they're also throwing a
fundraising party
for
NailedIt
at the Oakland Asian Culture Center this Friday, July 11. I hear that Adele will be doing free manicures for your Friday night latergrams. Here's a flyer with more details: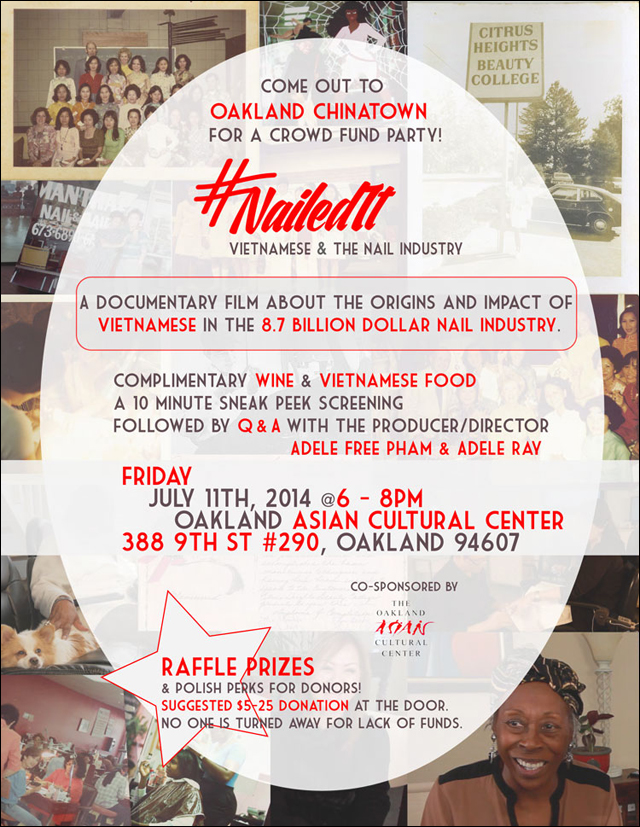 For further information, check out the
Facebook event
.