A sleek and slim wallet that doesn't create a bulge in one's pocket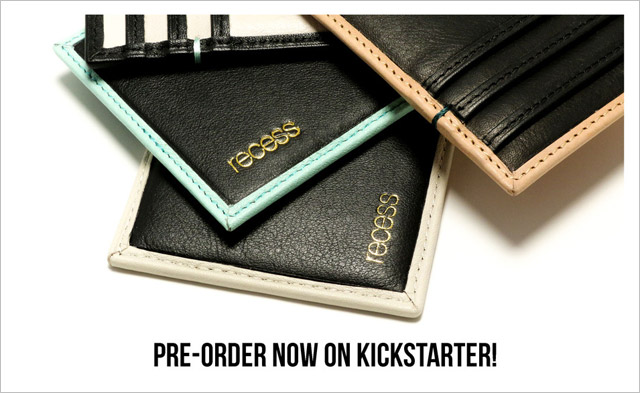 Here's a pretty good project to get behind. Ravi Bhanot, Daniel Zing, and Tim Chang are the team behind
recess
streamlined leather bulk-free wallets. The proposed designs look pretty fresh, and they need your help to jumpstart the manufacturing process -- which is where recess wallets get interesting.
The recess team, which is based in San Francisco, is looking to change the practices and perceptions of producing abroad. They have traveled across China, carefully selecting the best factories to ensure quality product and quality treatment of workers, and bring transparency behind the manufacturing of these wallets.
Check out this video to see these handsome wallets in action:
The great news is that they've reached their
Kickstarter
fundraising goal ahead of the deadline, but there's still some time left to lend some extra support.
Here's more info about the product:
recess was formulated between three friends with one basic question in mind: What was recess for us when we were kids? For some it was the love of art and drawing. For others it was putting on some headphones and listening to music, or even playing basketball with friends. These moments, our recess, defined our passions and helped shape who we are today.

From this seed we thought about what recess means to us as adults, and how this ideal should permeate throughout our company. At the core of it, it involves taking time to reflect, pursuing what flames our passions, remaining authentic to ourselves, and being conscious of all our decisions and actions.

We hope that these principles are clearly reflected in our products and company as a whole - where materials are meticulously sourced, each stitch is carefully considered, and all individuals in touch with our product life-cycle are valued and respected. Ultimately, each decision is thoroughly examined and reviewed, resulting in a company that we hope will inspire others.

We are based in San Francisco where all of our designing, marketing, and collaborating takes place. Additionally, we have carefully selected the best factories in China to produce our products in order to ensure that the craftsmanship and treatment of its workers mirror our core tenets.

That's a cool idea. For further information, and to pre-order yours, check out the
Kickstarter
.