John Cho and Kal Penn reunite for "wildly inappropriate" first table read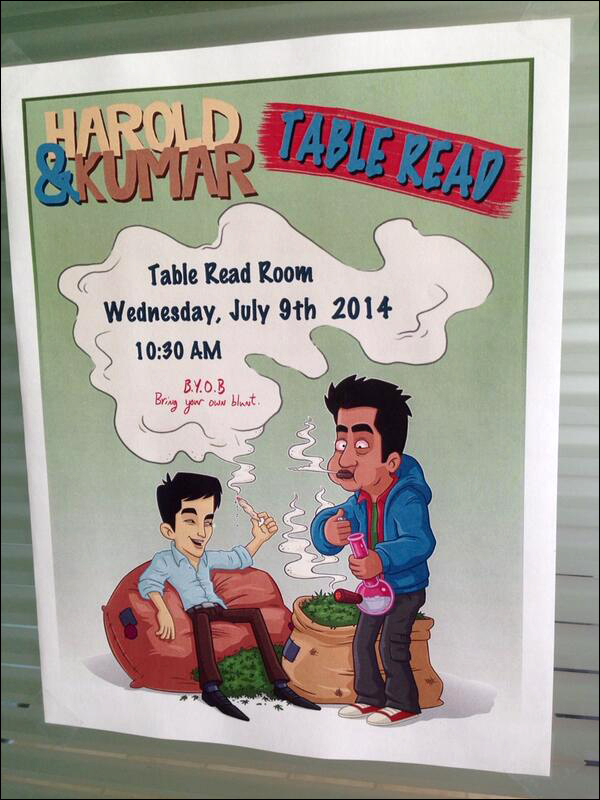 It's on, my friends. The
Harold and Kumar
animated series is on. We've known that an animated series based on comedy trilogy was
in the works
, with John Cho and Kal Penn returning to provide the voices for the titular stoner duo. This week, the cast reportedly reunited for the show's first table read.
The gathering included Cho, Penn and several returning cast members, including Dave Kumrholtz, Eddie Kaye Thomas and Paula Garces, and producer/creators Jon Hurwitz and Hayden Schlossberg. They tweeted photos from the table read, which was described as "insane, surreal and hilarious." Also: "wildly inappropriate."
I would expect nothing less from an animated
Harold and Kumar
.
Had a wildly inappropriate morning w/ @JohnTheCho @jonhurwitz @McSchlossberg @DaveKrumholtz @paulagarces1 #EddieKayeT pic.twitter.com/ORns5wE7Bf

— Kal Penn (@kalpenn) July 9, 2014
We're baaaaack! HAROLD & KUMAR ANIMATED SERIES!!! Coming soon!! pic.twitter.com/VWRLBWJ8Df

— David Krumholtz (@DaveKrumholtz) July 9, 2014
#HaroldAndKumar! Animated!!! Me, @KariWahlgren @JessHarnell @JohnTheCho @kalpenn @fred_tatasciore #BillyWest! pic.twitter.com/MfM5tzSsMg

— Gary A Williams (@GaryAWilliams) July 9, 2014
HAROLD & KUMAR table read was insane, surreal, & hilarious. Cannot wait for fans to see this! @JohnTheCho @kalpenn pic.twitter.com/lHSB1slGzY

— Jon Hurwitz (@jonhurwitz) July 9, 2014
The
Harold & Kumar: The Animated Series
is set to air Cartoon Network's Adult Swim. Stay tuned.