Undocumented journalist and immigration activist taken into custody by Border Patrol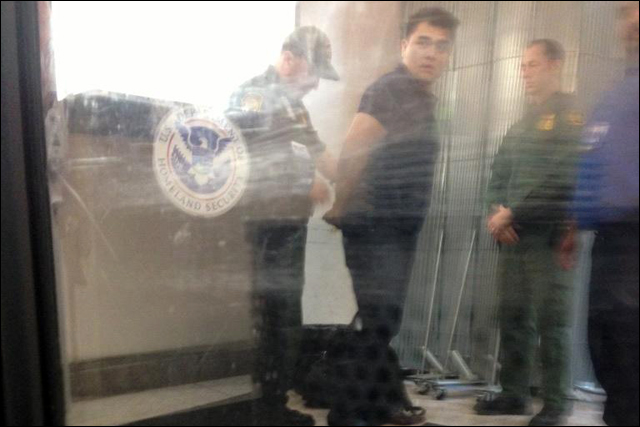 Pulitzer Prize-winning journalist, filmmaker and immigrant rights activist Jose Antonio Vargas -- arguably the most visible undocumented immigrant in the country -- was detained at a Texas airport this morning.
Reporter Jose Vargas, symbol of immigration debate, detained at airport
Vargas, who started the campaign Define American and has been outspoken about being undocumented, was detained in McAllen, Texas while trying to go through airport security. He was in McAllen to
cover the children migrant crisis
and show solidarity for the youth who have been recently crossing the border from Central America.
Only after arriving in McAllen, where the security procedures are much stricter, did he realize how challenging it might be to return home. As an undocumented immigrant, Vargas does not have a U.S. government-issued ID, and expressed uncertainty about getting through the numerous Customs and Border Protection checkpoints.
This morning, Vargas tweeted that he was about to go through airport security:
About to go thru security at McAllen Airport. I don't know what's going to happen. For updates follow @DefineAmerican & @MAC_UTPA

— Jose Antonio Vargas (@joseiswriting) July 15, 2014
The only IDs I have for security: Philippine passport and my pocketbook US Constitution @DefineAmerican & @MAC_UTPA pic.twitter.com/IFH0Vb4oX7

— Jose Antonio Vargas (@joseiswriting) July 15, 2014
At around 9:15 this morning, Jose Antonio Vargas handcuffed and taken into custody by U.S. Customs and Border Protection. According to Define American, he is currently being questioned by agents at the McAllen Border Patrol Station.
Here's a photo of @joseiswriting in handcuffs, because the Border Patrol has nothing more pressing to do apparently pic.twitter.com/dN8KewqeZr

— Ryan Grim (@ryangrim) July 15, 2014
Could Jose be deported?
Here is an
online petition
, created by United We Dream, on behalf of not only Jose, but all of the undocumented families who also live near the border. They can neither return to their home countries nor travel outside of a 100-mile radius within their home state of Texas. They're trapped:
Stand with Jose & undocumented families who live on the border

We're marching to the airport with Jose to stand with him and families who live on the border. (Watch the livestream above of the march where families will share their personal stories.)

Jose Antonio Vargas has just been arrested by border patrol for attempting to go through airport security.

Jose is undocumented. He joined UWD and MAC (Minority Affairs Council), a UWD affiliate, in McAllen, Texas this past weekend to stand in solidarity with unaccompanied children who cross the Texas border fleeing for their lives. As you may know, Jose doesn't have legal status and he didn't qualify under DACA because of the age cap. He came to McAllen to stand in solidarity with UWD and MAC so we could uplift the stories of refugees fleeing persecution in Central America. He didn't know that Border Patrol checkpoints are all around this area and also at the airport, which means in order to leave, he must risk arrest and detention.

Jose's current situation is our reality every day. For many undocumented immigrants who live near the border, we can't return to our home countries, and can't travel outside of a 100-mile radius in our home state of Texas. We're trapped inside a cage.

That's why it's important for DACA to be expanded, so people along the border can be integrated into this country and be reunited with their families.

Sign the pledge to stand with Jose and the families who are trapped in border towns.

Sign United We Dream's pledge in solidarity
here
.
You can also Define American's
pledge
in support of Jose and the border children.
More here:
Trapped on the Border
More here:
America's most famous unauthorized immigrant is in the hands of Border Patrol
UPDATE: Jose Antonio Vargas has been released from U.S. Border Patrol custody. He released the following statement:
I've been released by Border Patrol. I want to thank everyone who stands by me and the undocumented immigrants of south Texas and across the country. Our daily lives are filled with fear in simple acts such as getting on an airplane to go home to our family. With Congress failing to act on immigration reform, and President Obama weighing his options on executive action, the critical question remains: how do we define American?"

More here:
Jose Antonio Vargas Released From Border Patrol Custody