If potato salad can get funded, so can the future Mrs. Wong-Lin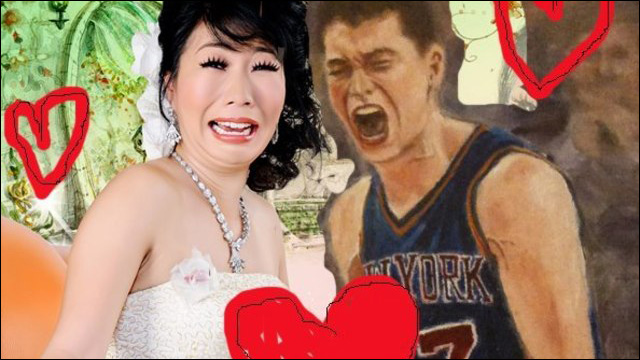 Performance artist and comedian Kristina Wong's affection/obsession for Jeremy Lin is well-documented. Now that the basketball star is coming to Los Angeles, Kristina intends to
get married to Jeremy Lin
. To make that happen, she has launched a
Kickstarter
, and is asking for your help funding the nuptials.
Wait, what? Kristina explains in this creepy video:
Okay, that wasn't a really good explanation at all. This is a better explanation of what's this is about:
My name is Kristina Wong and you may know my work as a performance artist and comedian. Ok, most likely you DON'T know my work, but whatever, I'm still asking you for money anyway.

For the last two years I have been publicly vying for the attention of NBA Superstar Jeremy Lin so that I can get married and have babies already. It's been something of a durational performance project where my anxieties as a childless woman approaching the last of her childbearing years play out as a public spectacle that subverts gendered approaches of courtship and the otherwise emasculated media images of Asian men.

So there is a point to all this. So what will this actually look like? If she meets her $5400 Kickstarter goal, Kristina will purchase two extremely expensive court side tickets to a Lakers game in the upcoming season... wearing a wedding dress and accompanied by a maid of honor. She's got it all planned out:
Here is the 6-Point Projection Plan ("6PPP") of how I will use the money once this Kickstarter is successful....

1. Buy Court Side tickets for myself and my Maid of Honor.

2. Borrow a wedding dress to wear (since I won't have money left at this point).

3. Go to the game in a wedding dress.

4. Jeremy Lin will fall in love with me when he sees me.

5. We get married in a public ceremony for all my donors. He moves into my place in Koreatown while we save up for a bigger house.

6. We have babies and live happily ever after.

Yes, it all seems so simple.
And in case you are totalllllly weirded out by all this, Kristina offers further clarification:
TO BE CLEAR: This project is a self-satirizing critique of fandom, class and access, racial stereotypes, gender and the institution of marriage. Jeremy Lin is a public figure who many people are obsessed with and project the meaning of their own lives onto. There will be other fans in the stadium who will yell his name, wear an outrageous costume, or scream "I want to have your baby!"-- this is all within the bounds of being a basketball fan. Everything that I am proposing in this performance art project also falls within the bounds of being a basketball fan. I will not forcibly make contact or threaten Jeremy Lin, nor break any laws or rules of conduct in the Staples Center. I will do as I have done in previous iterations of this project... WILL him to notice me with tongue-in-cheek humor.

If Kristina makes it to court side, wedding gown and all, that's going to be quite a sight. For further information about the future Mrs. Wong-Lin, and to make a pledge to this wacky campaign, head over to
Kickstarter
.