"Protecting myself from the endless stream of horrible LA drivers..."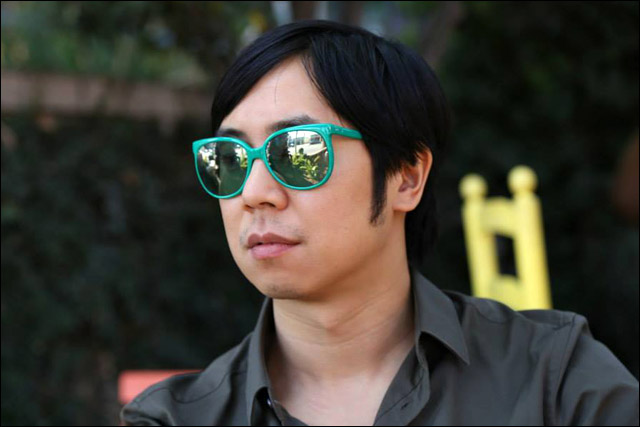 Hello, good people! It is time, once again, to meet the
Angry Reader of the Week
, spotlighting you, the very special readers of this website. Over the years, I've been able to connect with a lot of cool folks, and this is a way of showing some appreciation and attention to the people who help make this blog what it is. This week's Angry Reader is Jeremy Arambulo.
Who are you?
Jeremy Arambulo
jeremyarambulo.com
@jeremyarambulo
What are you?
Cartoonist, freelance designer/illustrator/storyboard artist. I write/record music as
Fluorescent Beige
and play in a few bands:
Born That Guy
,
The Visitors
, and
Alive Swan
. I also dabbled in acting as Andy Go in the web series
Mythomania
, emerging somewhat damaged.
Where are you?
Glendale, California, immortalized by Beck's song "Debra." Zankou Chicken.
Where are you from?
Born in Queens and raised in Long Island, New York.
What do you do?
I'm currently working on a graphic novel,
A CHALLENGE
, inspired by the real-life match between Wong Jack Man and Bruce Lee. The witness's accounts of the fight vary widely, so I enjoyed creating my own original narrative around it. The story focuses on the relationship between three friends: Jack, Frank, & Nancy. We've already got plenty of stories focusing on the life (and myth) of Bruce Lee, so he's almost a "supporting" character in my comic.
Chapter 1 (of 8)
was posted last week and a new chapter will be posted bimonthly.
What are you all about?
Comics, abrasive guitars, Hayao Miyazaki obsession, aggressive drumming, the progression of Asian Americans in pop culture, and burritos.
What makes you angry?
Cell phone zombies, sad karaoke singers, Hollywood white-washing/race-bending [in front of, and behind, the camera], protecting myself from the endless stream of horrible LA drivers, Fox News, and bourbon.