Los Angeles chef/restaurateur filming 'Street Food' for CNN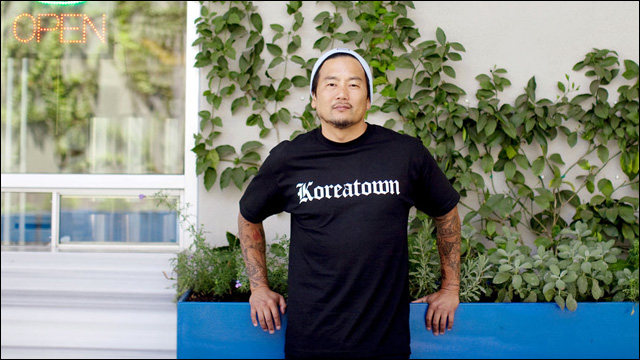 It was only a matter of time. Cool news for fans of Roy Choi. The chef/restaurateur/author, who is credited with jumpstarting Los Angeles' food truck craze, recently announced that he's getting his own TV show on CNN.
Chef Roy Choi Is Getting His Own Show on CNN
Details are a little scarce -- the network might not have been quite ready for the news to break -- but based on Roy's social media message, the show will apparently be called
Street Food
. That seems pretty appropriate.
Roy announced the show over the weekend on Twitter:
I got my own show&it's from the heart on the biggest platform down2the smallest detail. #CNN #StreetFood thank YOU! pic.twitter.com/MVafJl9Oa6

— Papi Choilo (@RidingShotgunLA) August 10, 2014
It looks like Roy's collaborating again with director/actor Jon Favreau, who he worked with on the culinary-themed feature film
Chef
. Here he is on Vine, rocking a knife:

Roy Choi and I shooting #streetfood for CNN #comingsoon #chefmovie https://t.co/xXrMluyFTK— Jon Favreau (@Jon_Favreau) August 10, 2014
Looks like they're shooting now, so it might be a little while before the show hits the air, but I'm down.
You could say things are pretty hot right now for Roy, who also opened yet another new restaurant, the "vegetable-focused"
Commissary
, in Los Angeles last week. Looking forward to chowing down.