The star of 'The Shadow Hero' joins the Amazing Heroes retro-style action figure line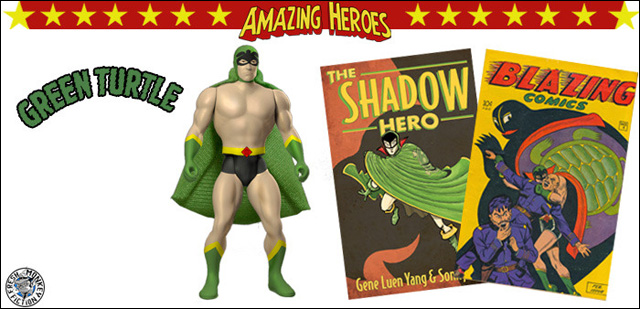 Gene Luen Yang and Sonny Liew's graphic novel
The Shadow Hero
resurrects an old, obscure Golden Age comic book hero, The Green Turtle, and re-imagines his origin story as the first Asian American superhero.
The book is fantastic, and I can't recommend it enough. If you're a fan of
The Shadow Hero
, and you're as geeky as I am, then you'll be pleased to hear that a Green Turle action figure is in the works. Yes!
Amazing Heroes
is a series of 4.5" retro-style super hero action figures based on obscure comic book heroes of yesteryear, created by the Fresh Monkey Fiction. If you've never heard of characters like Stardust the Super-Wizard, The Black Terror or Silver Streak, I can't blame you. But they're part of a small collection of superheroes getting the action figure treatment -- and the Green Turtle has been included as part of the lineup.
They're currently in the middle of
Kickstarter
campaign to get the figures produced. Check it out:
Obscure Golden Age superhero The Green Turtle, newly invigorated from the graphic novel The Shadow Hero, joins the Amazing Heroes Kickstarter line as his own action figure. If funded, this limited edition retro style action figure will become the first ever of this hero. He joins a line that includes Captain Action, the Black Terror, Golden Age Dare-Devil, and Stardust the Super-Wizard.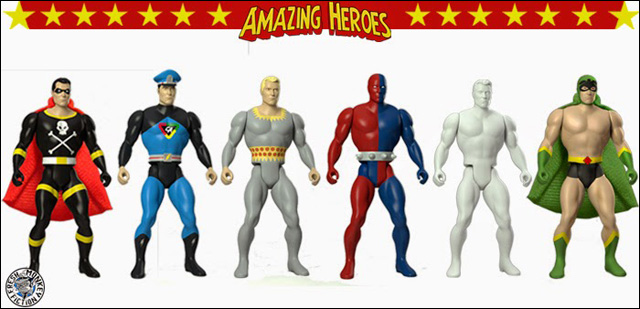 The Green Turtle figure will be limited to 300 pieces and is offered as part of an exclusive six-figure set that will be only available through this Kickstarter. UPDATE: The Green Turtle action figure is now available individually at the $25 level! Pledge and order yours now!
The campaign's goal is to reach $30,000 by August 26. For further information on the figures, and to make a pledge, head over to
Kickstarter
. And if you haven't already, definitely check out Gene Luen Yang and Sonny Liew's
The Shadow Hero
!
More here:
The Green Turtle Joins the Amazing Heroes Kickstarter