7-foot-5, 360-pound center signs contract with Sacramento Kings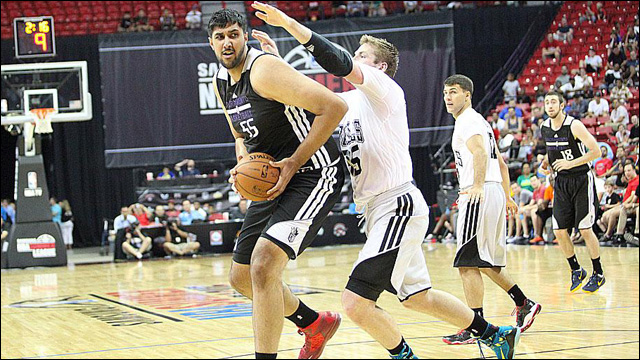 Prepare yourself for SIMSANITY.
On Wednesday, the Sacramento Kings announced that they've signed 7-foot-5, 360-pound center Sim Bhullar to a contract. That makes him not only the NBA's tallest player, he is the league's first player of Indian descent.
Meet Sim Bhullar, the Kings' 7-foot-5 center project and the NBA's first player of Indian descent
Bhullar, who hails from Canada, turned heads -- he's kind of hard to miss -- while playing two seasons for New Mexico State, where he averaged 10.2 points, 7.2 rebounds and 2.9 blocks. He went undrafted, but was invited to play with the Kings last month in the NBA's summer league tournament.
Sim tweeted about his NBA contract, exclaiming "Dreams do come true!"
Dreams do come true! Officially signed my first NBA contract with the @sacramentokings !! pic.twitter.com/3TZc7O4Meu

— Sim Bhullar (@SimBhullar2) August 14, 2014
While Bhullar hasn't yet proven himself as the strongest player on the court-- he'd be the first to admit it -- the simple truth is that
you cannot ignore a guy this big
. He'll join the Kings at training camp, where he'll compete for a spot on the roster. Hope to see this guy thundering down the court.
More here:
Sim Bhullar makes NBA history