"I try to have fun while trying to make a difference in some way."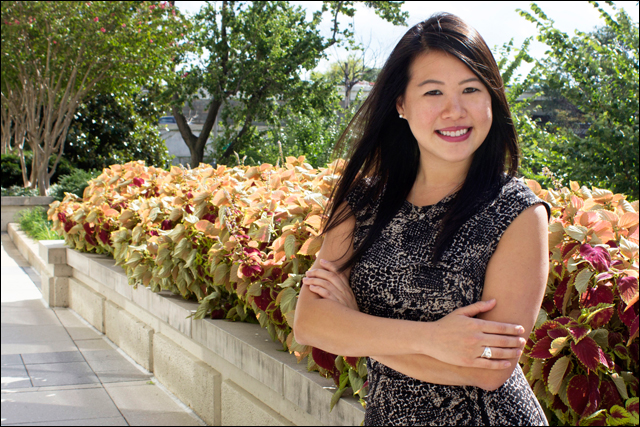 Photo: Bessie Chan
Good people of the internet! Once again, it's time to meet the
Angry Reader of the Week
, spotlighting you, the very special readers of this website. Over the years, I've been able to connect with a lot of cool folks, and this is a way of showing some appreciation and attention to the people who help make this blog what it is. This week's Angry Reader is Rebecca Lee.
Who are you?
My name is Rebecca Lee, probably one of the many Rebecca Lees you'll meet.
What are you?
I am an Asian American woman in my late 20s trying to figure out my place in the world. I am a public servant, a community advocate, a communications nerd, and a Sriracha addict.
At the moment, I'm very grateful to have a job that I love and work to advance our community on a national level.
Where are you?
I'm in Washington DC, where my family has been since the 60s.
Where are you from?
My parents immigrated from Hong Kong and Burma, and I grew up in an intergenerational household in the Maryland suburbs of Washington DC. I come from an entrepreneurial family -- my grandparents had a laundromat in Columbia Heights and survived the DC race riots. My father owns a small auto parts store in Northeast DC.
What do you do?
I oversee communications at the
White House Initiative on Asian Americans and Pacific Islanders
. We're a federal government-wide initiative, reestablished by President Obama in 2009, working to improve the quality of life for AAPIs by connecting them to federal opportunities. You knew this plug was coming -- follow us on
Twitter
,
Facebook
, and Instagram (
@WhiteHouseAAPI
).
What are you all about?
I try to have fun while trying to make a difference in some way. Every day at work I try to bring some creativity into the federal government, like creating a
lifesize Instagram frame
for our Youth Forum, or helping my bosses with an Oscar-esque opening monologue for our AAPI Heritage Month Opening Ceremony (
fast forward to 18:13
).
I'm about empowering people to have a voice and championing the change they wish to see. As an undergraduate at Cornell University, I found my own voice in leading a diverse group of students to found the Asian & Asian-American Center, so that students after us could have an institutionalized platform for community building and advocacy.
I love seeing strong females both off and on screen. Right now, I'm really excited about the new seasons of
Scandal
and
The Mindy Project
.
What makes your angry?
Alienation. Apathy. Inaction. When someone closes the door on someone else rather than paying it forward. When someone is marginalized based on their race/ethnicity or factors beyond their control. When someone witnesses something inherently wrong, like a hate crime or bullying, and does nothing. Divas and slackers make me a little angry too.