Wednesday, September 10 at Santa Clara Valley Labor Center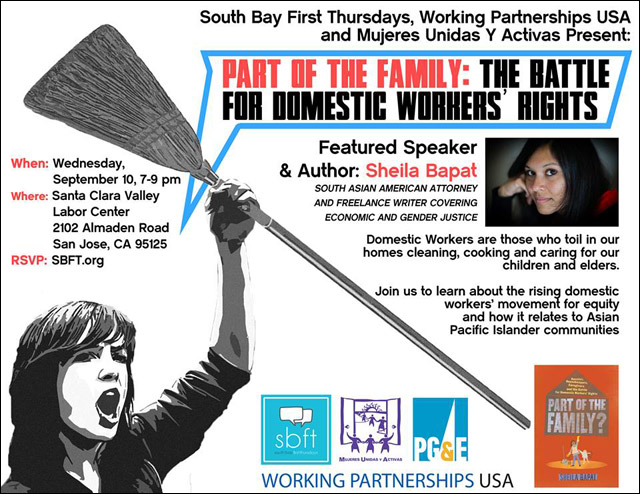 Yo, San Jose. On Wednesday, September 10, join South Bay First Thursdays for "Part of the Family: The Battle for Domestic Workers' Rights," an evening dedicated to the rising domestic workers' movement for equity. Attorney and freelance writer Sheila Bapat is the featured speaker for the event, which is co-hosted by
Working Partnerships USA
and
Mujeres Unidas y Activas
. Here's more info:
Part of the Family: The Battle for Domestic Workers' Rights

Join South Bay First Thursdays to learn about the rising domestic workers' movement for equity and how it relates to Asian Pacific Islander communities. Domestic Workers are those who toil in homes cleaning, cooking, and caring for our children and elders. Help us spread the word about this exciting upcoming event to your constituents and community.

Featured Speaker & Author: Sheila Bapat (South Asian American attorney and freelance writer covering economic and gender justice)
When: Wednesday, September 10th, 7 pm - 9 pm
Where: Santa Clara Valley Labor Center, 2102 Almaden Road, San Jose, CA 95125
RSVP here: http://bit.ly/PartofFamily
--
Sheila Bapat's work has appeared in Jacobin, Salon, Reuters, Slate, Alternet, Truthout, and Penn Law, among many others. She was featured on Ms. Magazine, a long-running magazine dedicated to women's rights

"One of the best books on a very present-day movement that we've read in a long while."-Demos, a progressive public policy organization

"[The book] will open the eyes and hearts of our nation and inspire vital changes in our policy and culture."-Sarita Gupta, Executive Director of Jobs with Justice; Co-Director, caring Across Generation

The event is free, but you should RSVP
here
.